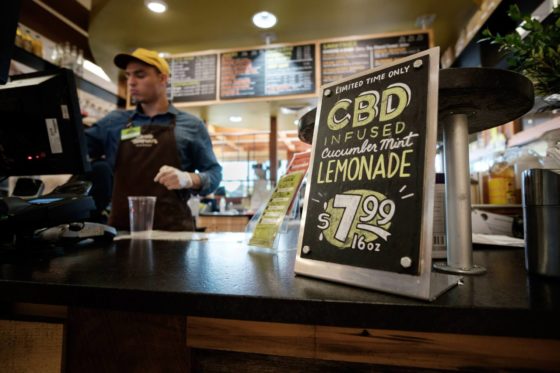 Florida restaurants and eateries have begun adding CBD (cannabidiol) oil to some of the items on their menus.  Widely regarded as a wonderful supplement to help deal with pain, anxiety, and other ailments, CBD oil gives the user the benefits of cannabis without the mind-altering high.
Customers are raving about the new slices at Pizza City in Fort Lauderdale, especially the marinara sauce, which is infused with cannabidiol, aka CBD oil, the trendy but controversial compound commonly found in cannabis plants, according to ABC Local 10 News. Although controversial, CBD oil shouldn't be. Some CBD-laced foods contain trace amounts of THC (tetrahydrocannabinol), the psychoactive substance in marijuana that produces a euphoric high. THC is illegal in Florida for those without a medical marijuana card. But according to WebMD:
Cannabidiol is extracted from the flowers and buds of marijuana or hemp plants. It does not produce intoxication; marijuana's "high" is caused by the chemical tetrahydrocannabinol (THC). –WebMD
The U.S. Food and Drug Administration also says that using CBD oil as a food additive is illegal nationwide, says Seth Hyman, a medical marijuana expert with the Plantation law firm Kelley Kronenberg.
However, trace amounts aren't enough to get a person high and marijuana laws are rapidly changing across the country to improve freedom and choice over what Americans are allowed by the government to put in their bodies. Regardless, CBD oil has gained a foothold in Florida, where it's widely available at markets and vape shops in glass bottles and bath bombs, dog treats and gummies.
"Selling unapproved products with unsubstantiated therapeutic claims is not only a violation of the law but also can put patients at risk, as these products have not been proven to be safe or effective," FDA commissioner Scott Gottlieb wrote in the statement. "Cannabis and cannabis-derived products … are considered new drugs or new animal drugs and must go through the FDA drug approval process for human or animal use before they are marketed in the U.S."
That hasn't stopped Dave Nardi, the owner of Pizza City, from infusing his New York-style pizzas with CBD oil. Pot-leaf cartoons and the phrase "CBD infusion" decorate the windows of his Las Olas Boulevard pizzeria.
It isn't just Florida either! CBD-infused food and drinks have been popping all over the country in response to the demand for the oil. You can find CBD-laced food or lattes in many places in New York City as well.
CBD oil is definitely the newest health craze, and whether it's a fad or an actual medical miracle should be left up to those who make the decision to consume it, not the meddling busybodies in government who think they can dictate everyone's lives.