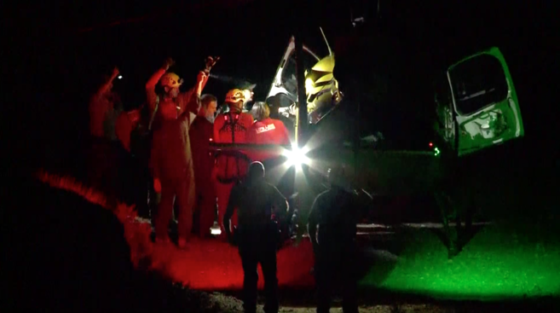 The will to survive can be an incredibly powerful force, as the case of John Waddell demonstrates.
Waddell, 62, fell down a 100-foot deep mine shaft in Arizona on Monday, and miraculously, lived to tell his story.
The fall broke both of his legs. And as Waddell lay helpless, several rattlesnakes slithered around him.
He killed three of the snakes at the bottom of the 100-foot hole.
If it weren't for his good friend Terry Schrader, Waddell probably would not have made it.
"He had called me Monday, and told me he was coming to the mine," Schrader told FOX10 Phoenix. "We always had a deal. If he is not back by Tuesday, because he said he would be back Tuesday. I didn't come down Tuesday, I did today. He didn't get back and here's what we found. I was afraid of what I was going to find."
Schrader drove to the mine shaft area on Wednesday and heard his friend screaming.
"As I pulled out my truck I could hear him hollering, 'Help, help!'" Schrader said. "I did get enough [cellphone service] that the deputies were on their way."
It took rescuers nearly six hours to pull Waddell out of the shaft to safety. He was then airlifted to a hospital.
Although Waddell was severely dehydrated and had broken his legs, his injuries were not life-threatening, FOX10 reported.