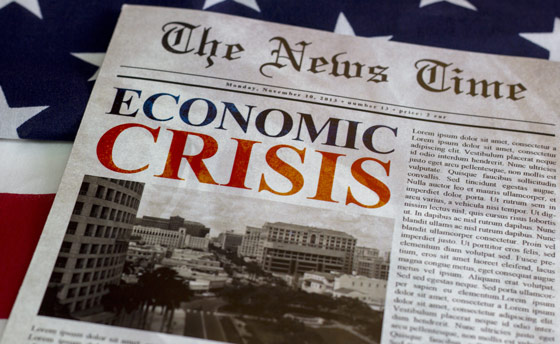 In a new survey, a majority of small business owners think that another recession is coming, and soon. Over half of small business owners surveyed believe that the recession will happen in the next year.
Likely using their business sense that made them successful and looking at the overall big picture (which is painted nicely over a big pile of excrement), small business owners are not all that optimistic about the coming year. The latest CNBC/SurveyMonkey Small Business Survey is highlighting concerns of United States entrepreneurs. As the mainstream media continues to whitewash the precarious situation the national and global economy is in, many are slowing realizing just how disastrous the next crash or recession will be; and part of the apocalyptic future will be because the media refused to tell the blatant truth about how bad the debt crisis and everything bubble truly is.
This was the first time in the two-year-plus history of the survey that small-business owners were asked for their recession forecast, but the broader survey trends over time indicate more caution on the part of entrepreneurs as multiple readings of small-business sentiment has declined, reported CNBC of their own survey.
"While a slim majority of small-business owners see a recession ahead, there's little sign that they think it's imminent," said Jon Cohen, chief research officer at SurveyMonkey. "The small-business index has tapered off from its peak in Q3 2018, but it certainly hasn't hit a wall, and several of its core components remain strong," Cohen said. And perhaps that's part of the problem.  Even some of the elitists who wield power over others have come out with warnings that a recession is nearing and that they [your political overlords] won't be able to stop it or even help you out.
https://www.shtfplan.com/headline-news/paul-krugman-expects-a-recession-this-year-and-the-ruling-class-wont-be-able-to-help-you_02112019
Wall Street surveys also are revealing elevated recessionary fears. The CNBC Fed Survey conducted in January, which includes economists, fund managers, and strategists, placed the probability of a recession in the next 12 months at 26 percent, the third straight increase and the highest since January 2016, and the highest of the Trump presidency. A recent Wall Street Journal survey of economists finds fears of a recession at a seven-year high. -CNBC
A nationwide survey of more than 10,000 Americans conducted by SurveyMonkey in January also found a high level of recession anxiety.  Main Street looks like they understand just how glaringly bad things can become.  63 percent of Americans say a recession is likely in the next year and only 10 percent saying it was "very unlikely."  But are Americans prepared for a recession?  Most analysts say no, as it seems no lessons were learned after the 2008 Great Recession.
https://www.shtfplan.com/headline-news/how-to-best-prepare-yourself-for-the-coming-financial-crisis_06282018