As investigators attempt to put together the pieces surrounding the most recent mass shooting at Fort Hood, Texas, it didn't take long for the mainstream media to begin fabricating its own narratives as to why Ivan Lopez may have targeted twenty soldiers last week.
Following reports that Lopez was an outspoken critic of previous mass shootings via his Facebook page and that he was suffering from symptoms related to post-traumatic stress disorder, CNN's Pamela Brown says she spoke with an anonymous source who indicates the disturbed shooter was stockpiling large amounts of ammunition, having returned to the local Killeen, TX gun shop where he bought his gun on multiple occasions to purchase additional rounds.
And though Brown spent all of 20 seconds explaining the ammunition connection in the video report below, at no time did she mention that Lopez owned or purchased anything other than the .45 caliber handgun he used to commit the shooting.
Yet that didn't stop the CNN editorial team from running a prominent headline suggesting Lopez, "Stockpiled Weapons, Ammunition."
Within the report itself, CNN claims Lopez purchased a "large amount of ammo," and they even included a graphic in their news report of what a bulk purchase of ammunition might look like, though Brown failed to specifically mention how much ammunition was actually purchased: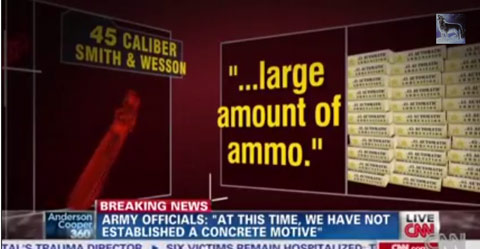 You can view the CNN video report below, but pay attention because if you blink you might miss it (starts at about 0:40):
Army specialist Ivan Lopez was creating a stockpile of ammunition.

Sources say when Lopez bought his 45 caliber semi-automatic handgun at this store, Guns Galore, in Killeen, TX on March 1st, he also purchased what one source calls a 'large amount of ammo.'

CNN has also learned that the 34-year old returned to the store repeatedly to buy even more bullets. 
It's not clear where CNN gleamed this information, how much ammunition was purchased, or how it is relevant to the investigation itself.
The fact that CNN chose to run a headline indicating that the stockpiling of ammunition also included a weapons cache is indicative of a new narrative being formed, likely to be followed up by more 'extremist' behavior that may include visiting 'radical' web sites or forums.
In December of 2011 Senator Rand Paul gave a speech on the House floor in which he warned Americans of activities that were now considered terrorism by the U.S. government. Paul specifically cited the storage of ammunition and guns as red flags for law enforcement and national security officials:
Know good and well that some day there could be a government in power that is shipping its citizens off for disagreements. There are laws on the books now that characterize who might be a terrorist.

Someone missing fingers on their hands is a suspect according to the Department of Justice. Someone who has guns, someone who has ammunition that is weatherproofed, someone who has more than seven days of food in their house can be considered a potential terrorist.

If you are suspected by these activities do you want the government to have the ability to send you to Guantanamo Bay for indefinite detention?
This latest "investigation" by CNN seems like an obvious attempt to engage in a strategy of predictive programming, whereby they are hinting to the American public that those who store, collect or stockpile ammunition and guns are a danger to society and should be reported as such to officials.