At one time, being a communist in America was a bad thing.
Today, political correctness has led to a desensitization among the public about labeling government policies, programs and actions as "socialist", "communist", or "Marxist." We're told that we have to be open to the idea of socialism – the redistribution of wealth and the intervention of government into every aspect of our lives. We're told that some of the ideas and policies of communism (and fascism) are actually viable alternatives to try, even though the very ideas in actual application run completely counter to the founding principles of these United States.
It seems that the majority of the American public has absolutely no idea what this actually means. Sure, it looks great on paper, but in actual practice these political and economic philosophies have led to the imprisonment and deaths of, literally, millions of people.
A favorite T-shirt available at Protest Warrior tries to point out the obvious:
Communism only killed a hundred million people. Let's give it another try.
Will the United States eventually end up as a communist economic and political system? Many argue that the merger of corporations and state indicates we're moving in the direction of fascism, not communism. While we won't disagree with this statement, we opine that when looking at the political spectrum, with communism on the far left and fascism on the far right, one can't help but notice the systems are very closely related. In fact, the political spectrum, as far as we're concerned, doesn't actually look like the traditional model(s) we were taught in school: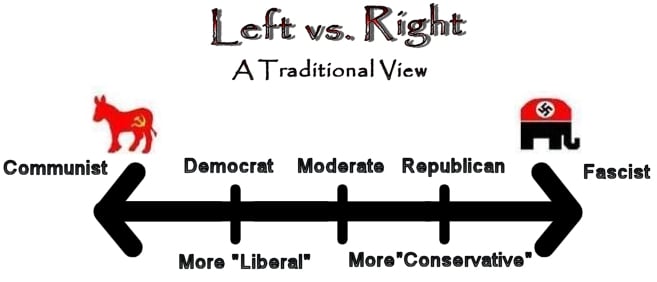 Picture Source: Illusion of Opposites
We prefer to look at the model more like this:
Or another, more succinct, view that completely redefines the spectrum we've come to know from mainstream thought: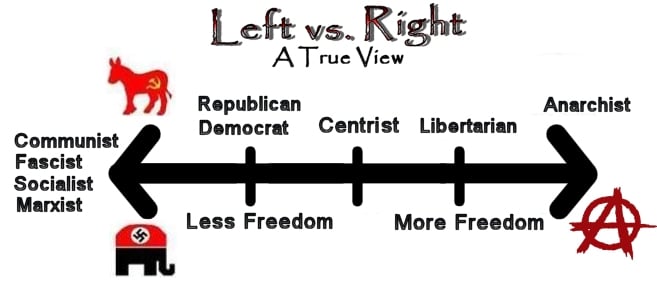 Picture Source: Illusion of Opposites
Call it what you will, in the end, both fascism and communism are totalitarian forms of government. In the end, you are no longer free.
Both, republicans and democrats, it seems, are leading us in the very same direction. This is clear when you put aside the rhetoric they use in front of media cameras and look at their actions over the last 50 years. We can blame Bush. We can blame Obama. We can blame Clinton. We can blame Reagan. However, the laws, policies and restrictions put forth by our Presidents and Congressional representatives have progressively deteriorated our liberties – regardless of which political party was in office or Congress. Until the majority of the American people realize this, no change will come to America – at least not until the entire system as we know it comes crashing down.
At the risk of aggravating and alienating some of our readers, we suggest that supporting a traditional democrat and/or traditional republican candidate is moving the country, as a whole, further left on the Left vs. Right: True View political spectrum. According to that spectrum, it seems that the majority of Americans could be considered "leftists."
In the following video, Lt. Gen. (Ret) Boykin discusses the many signs that America is rapidly degenerating into a totalitarian dictatorship. No, you may not see it just yet because you can still enjoy a Starbucks coffee everyday or write what you want on your blog without worrying about you and your family being lined up against wall and executed, but a shift to totalitarianism doesn't have to happen overnight – and there doesn't necessarily have to be a single leader. It's a process, in our case, a multi-decades long process that erodes individual liberty and freedom over time.
Lt. Gen. Boykin discusses how Marxism is invading America:
Hat tip Patriot One