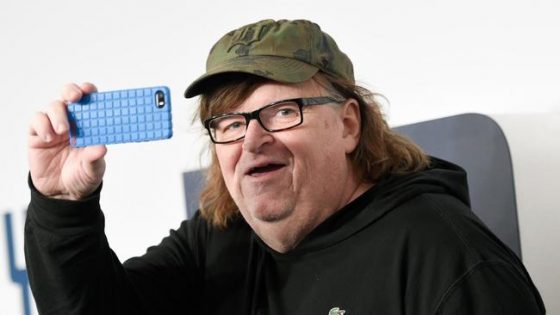 One of the biggest hypocrites to ever walk the face of the Earth, Michael Moore, participated in a Russia-organized anti-Trump rally. Liberals love to latch onto the "Russia" narrative, but they also like to leave out details surrounding their dalliances with the former Soviet Union.
Conveniently missing from most mainstream media news sources, isn't just information on the highly hypocritical and massive corruption of the Obama Administration and the Clintons in the Uranium One scandal. Prosecutors said Friday that the Russians indicted for meddling in the presidential campaign were also behind anti-Trump rallies that occurred after the election.
According to Fox News, the government alleged in an indictment signed by Special Counsel Robert Mueller that the defendants organized a November 12, 2016 "Trump is NOT my President" rally in New York. Their "strategic goal" was to "sow discord in the U.S. political system," the indictment said.
On November 12, 2016, Moore tweeted from that very protest organized by Russians.  "At today's Trump Tower protest. He wouldn't come down." He attached a picture of himself posing with a large number of protesters.
At today's Trump Tower protest. He wouldn't come down. Here's my Facebook Live coverage: https://t.co/FzxOyljoK5 pic.twitter.com/PxjoALcyn8

— Michael Moore (@MMFlint) November 13, 2016
Moore also posted a lengthy video on Facebook that same day, in which he joined the protest and debated voters at Trump Tower.  Approximately 25,000 protesters showed up to that same protest, chanting slogans rejecting the then-president-elect NBC News reported at the time, citing New York Police Department officials. Amid heavy police presence, protesters marched from Union Square to Trump Tower, The Guardian reported.
This puts anyone who still has faith that the FBI isn't a weaponized political tool of the deep state in a tough position. They really don't have the right to be critical of this information as they demand all Americans trust the FBI and where an investigation takes them.
Moore has repeatedly claimed that President Trump inappropriately colluded with Russians when it looks like there's plenty of evidence the Obama Administration and the Clintons seem to get a free pass for their role in the Uranium One scandal. Last year, Moore wrote on Facebook, "It doesn't take a rocket scientist to figure out what was going on: TRUMP COLLUDING WITH THE RUSSIANS TO THROW THE ELECTION TO HIM."
If it weren't for double standards, Michael Moore wouldn't have any.