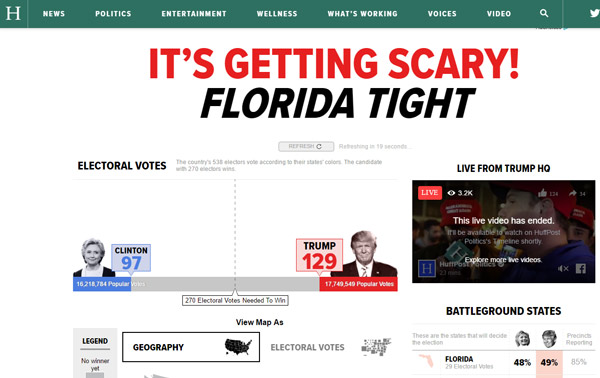 As late as Monday evening the Huffington Post was 98%+ certain that Hillary Clinton would win the Presidency.
Turns out they may have been off… by a lot.
With Florida leaning towards Trump and 92% of the votes already counted, what was a sure thing suddenly isn't.
Michigan remains in play and the mainstream media reports that the Clinton campaign still thinks they have a good chance at taking the state, though Trump is in the lead by a mere 100 points as of this writing. Pennsylvania, though only a small percentage of votes have been counted, is already being projected for Hillary. Ohio, which was originally marked off as a blue state is reportedly extremely close and will come down to the wire according to Republican strategists.
As we noted earlier today, Trump needs to win two states out of Florida, Pennsylvania and Michigan to take the electoral map.
The Huffington Post is freaking out, headlining their page with "It's Getting Scary."
A far cry from the landslide they have been projecting.
As Matt Drudge noted earlier at his web site, the election will come down to the late evening voters, many of whom were unable to cast votes until they got out of work.
Live Election Coverage with Alex Jones:
Live Election Coverage with NBC: