As we opined previously, the weeks long debate about the possibility of a government shutdown was nothing more than a distraction. And, as is generally the case in scripted Hollywood entertainment, this one was a nail-biter, coming down to the last minute before Obama's and Pelosi's Blues finally struck a deal with Boehner's Reds.
The nation was saved.
We anxiously await the next sequel in the saga, which is currently in final production and will reportedly involve President Obama unveiling his new spending (as opposed to savings) plan, the possibility of actually invading Libya with ground troops (the special effects will be re-mastered in HD with embed-style cinematography!), and a surprise stock market angle that is being kept hush-hush by production writers. It will no doubt be another blockbuster quality drama based on real events – one that will be discussed and analyzed at office water coolers nationwide.
In the meantime, we'll snap back to reality and take a look at what all the rage was about.
The following chart is all you need to see in order to understand the patent ridiculousness of our political system and mainstream media: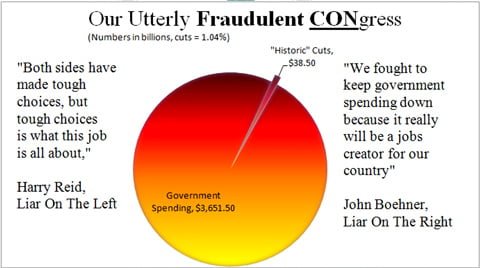 source: Market Ticker
In the days leading up to the potential government shut down, which, we admit we would have liked to have seen because the nation needs a few weeks off from government's constant intervention into our lives, the democrats and republicans argued over, and finally agreed upon, a "historic" budget cut of $38.5 billion.
Touted as a victory for both sides – and especially the American people – most failed to realize that in the two weeks in which the debate raged, some $53 billion had been spent by government, out of a total budget of some $3.6 Trillion. The $38.5 billion in cuts was about one percent of the total slated to be spent over the year.
At this rate, we may actually be running a budget surplus and have our national debt paid of by… well… NEVER.
The only thing historic about this latest budget battle is the historic amount of turd that was dumped onto the American people by politicians on the left, the right, those purported to be part of the original Tea Party movement, and the mainstream media.
But there's much more where that came from. If there's one thing that politicians are full of, it's B.S., so be assured that we will, once again, make history in short order.