This article was originally published by Sara Tipton at Tess Pennington's ReadyNutrition.com
Tess is the author of The Prepper's Blueprint: How To Survive ANY Disaster
Layering your clothing is one of the best ways to stay warm. Anyone who works outside or has chores around the house to take care of in the winter months understands the importance of keeping the body warm so it can operate at optimal levels.
Layering your clothing comes with many benefits, including the ability to remove one or two items of clothing if you begin to feel a bit warm and overdressed. This makes you more prepared for any possible weather outcome, writes Mountain Warehouse. When you're doing a combination of activities such as standing, walking, sitting, going outside and inside and back outside again, your body regulates its temperature very differently. This is ideal for people who do a lot of their chores outdoors! Layering allows you to be comfortable throughout the day as your body temperature and activity level change.
But just how does this technique work to keep a person warm? Layering clothing works by trapping warm air created by your own body heat in between the many layers of clothing. That trapped warm air acts like a layer of insulation for your body. Especially in winter, because that's when it's much colder, keeping your core warm is a key to good health, because this is the area that generates heat for your vital organs. Those organs need your body heat to function properly.
The University of Health Services in Madison Wisconsin writes that the basics of layering include four layers.
Base: a thin layer that fits your body. It works to wick away any sweat and moisture that would otherwise suck up your body heat.
Mid: your normal outfit, whether that's a long sleeved shirt or sweater.
Insulation: keeps your body heat in, and serves as your main source of warmth, like a fleece jacket or down vest. Some parkas even come with a built-in insulation layer.
Shell: protects you from the elements, like wind, snow, or rain. It's the last layer of protection between you and Mother Nature.
Some types of materials are more suited for the layering task than others. Try to avoid cotton. It doesn't insulate well, and when wet causes rapid loss of body heat. And if it's raining or snowing, don't put on a down vest or jacket.  Once it gets wet, you'll be very cold.
Let's start with the "Base layer". Your base should be able to wick moisture, such as sweat, away. If you are wet, you'll be cold. A great item for this base piece, I personally have found works wonders, is Under Armor Cold Gear with thumbholes. Click here for a women's style, and click here for a men's style. The thumbholes prevent the base layer's sleeves (which are pretty form-fitting to provide effective moisture wicking) from inching upward throughout activities such as sports or chores where there is a lot of arm movement. The thumb holes are not necessary for everyone, however, I refuse to buy a base layer without them anymore. This layer is going to cost you a little bit, but consider it an investment. Your first and fourth layer will be more expensive to buy, but both will be worth the money. Another perk of buying the Under Armour brand of Cold Gear as your base layer is that their materials are soft, comfortable, and don't chafe. There are no odd seams in places that could get irritating.
Keep your investment layers from wearing out by using the helpful tips in this article: Follow These Tips If You Want Your Clothes To Last For Years.
The second layer is considered the "mid layer" and should be a regular top. This can be a sweater or a long-sleeved t-shirt if you prefer. It would be the layer you would likely strip down to if you'll be taking a break from being outdoors and inside for some time, such as coming in for lunch. One thing to consider would be to make sure it feels a little snug and isn't loose. Also, try to avoid extra fabrics such as ruffles that will make the next two layers more difficult to get on.
The third layer is called the "insulation layer". This layer should be able to keep your body heat in.  This is your main source of heat. A fleece jacket (I have two exactly like this that are my go-to for this layer) or a wool vest work well here. But if you have a sweatshirt or a simple hoodie, that will also do the trick. You won't need your moisture-wicking here since it's not against your skin, so throwing on your favorite hoodie will work wonders. This is often where I personally stop my layering for doing sports outside. It works well down to about 25 degrees Fahrenheit (provided you are also wearing a hat that covers your ears and some Cold Gear leggings under sweatpants).
If it's really cold, or there's precipitation like snow, you will want the fourth layer which is called the "shell layer." This layer is what will protect you from wind, snow, and icy rain. This should be waterproof and breathable to allow moisture to escape. Depending on how cold it is, this may only need a rain shell, but a parka would work great too. Consider, like with your base layer, making an investment in your shell because it is going to need to work well for you especially when those temperatures plummet.
*Helpful Hint: Buy base layers and shells during "off seasons" such as the beginning of summer. Often you'll get those that didn't sell for about half off!  Do this when buying winter boots and gloves too!
Also, don't forget:
Get your hands in some gloves or mittens: Hand warmers are also great for keeping your fingers and toes toasty.
Get your feet in some socks and waterproof boots: Your feet are the farthest from your heart, so they're the hardest for your body to keep warm. Wool socks are the best material for wicking away moisture and holding in heat. And when you're boot shopping, look for waterproof and insulated ones (these cannot be beaten and keep your feet warm when temperatures plummet to -30 Fahrenheit) to keep the warmth in and the cold air, mud, and sleet out.
Hats, headbands earmuffs: You lose the most heat out of your head, not to mention your ears are usually the first parts to freeze since their nerves don't have much protection.
---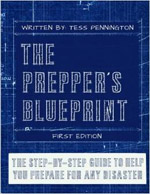 Tess Pennington is the author of The Prepper's Blueprint, a comprehensive guide that uses real-life scenarios to help you prepare for any disaster. Because a crisis rarely stops with a triggering event the aftermath can spiral, having the capacity to cripple our normal ways of life. The well-rounded, multi-layered approach outlined in the Blueprint helps you make sense of a wide array of preparedness concepts through easily digestible action items and supply lists.
Tess is also the author of the highly rated Prepper's Cookbook, which helps you to create a plan for stocking, organizing and maintaining a proper emergency food supply and includes over 300 recipes for nutritious, delicious, life-saving meals. 
Visit her website at ReadyNutrition.com for an extensive compilation of free information on preparedness, homesteading, and healthy living.