This report was originally published by Paul Chesser at Liberty Headlines.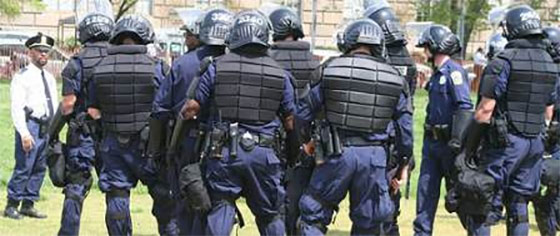 Photo by Elvert Barnes
Leftist agitators are escalating their protests into intimidation and violence on campuses in public venues across the country — against elected officials, public figures, and fellow students —  and now some lawmakers are saying, "Enough!"
The scale of the liberal resistance ranges from the national to the local. Politico reported yesterday that Republican members of Congress fear violence as they plan to repeal Obamacare. On Inauguration Day former North Carolina Gov. Pat McCrory, while visiting Washington, was forced down an alley and boxed in against locked doors after an intimidating mob stalked him yelling pejoratives, expletives, and threats.
Meanwhile The Daily Caller explained how a loosely connected "resistance" to President Trump has vowed to become "ungovernable," with groups such as DisruptJ20, Black Lives Matter, Refuse Fascism and Occupy Oakland stirring up riots and revolution. And last week Breitbart.com editor Milo Yiannopoulos was prevented from speaking at the University of California at Berkeley due to mob violence.
Even employees of the Environmental Protection Agency joined protests on Monday in Chicago.
So while supporting the demonstrators' rights to free speech, a number of lawmakers around the country have found their behavior to be an infringement on the rights and safety of others, and they intend to sponsor legislation and institute strategies to do something about it.
After a recent town hall meeting in which Republican Rep. Tom McClintock had to be protected by law enforcement officers after attendees grew angry, some Congress members are taking precautions to protect themselves. According to Politico, among the measures they plan to implement are backdoor exits, police presences, replacing glass door entrances with heavy doors, and intercom systems to vet visitors.
"The message was: One, be careful for security purposes. Watch your back. And two, be receptive. Honor the First Amendment, engage, be friendly, be nice," said Republican Study Committee Chairman Mark Walker (R-N.C.). "Because it is toxic out there right now. Even some of the guys who have been around here a lot longer than I have, have never seen it to this level."
Following the incident with former Gov. McCrory, North Carolina state Sen. Dan Bishop plans to introduce a bill to broaden an existing North Carolina law that protects elected officials from threats and intimidation, to also cover former public servants, and provide them state-funded security. Bishop says such protection is needed after a Facebook video showed McCrory was verbally assaulted with spiteful venom by an angry mob, and cornered in an alley with taunts of "shame," "bigot," and "a**hole," during his Washington visit. The former governor was targeted by aggressive leftists due to his defense of NC House Bill 2 (HB2) , known nationally as the "transgender bathroom law."
In response to the Berkeley riots, President Trump Tweeted out the possibility that he could cut federal funds to the university. Similarly, a number of states have proposed legislation that penalizes protesters who block traffic, prevent businesses from conducting commerce, or commit illegal acts while concealing their identities with masks or robes.
As for expression at universities, which for conservatives has been increasingly shut down by loud Leftist mobs, North Carolina Lt. Gov. Dan Forest says he will lead the advocacy for the Restore Campus Free Speech Act in the NC General Assembly. The law would, in part, eliminate speech codes at state universities and institute discipline against students who shout down visiting speakers or deprive others of their right to free expression. Students whose voices are muted on campus could pursue legal remedies at no cost to themselves for restitution.
"No student or guest of a university should ever feel threatened to exercise their First Amendment right of free speech, nor should they be prohibited from doing so," Forest said in a statement. "I look forward to working with the Legislature and Board of Governors to ensure one of our most basic American freedoms is afforded to every person on our public university campuses."
This report was originally published by Paul Chesser at Liberty Headlines.