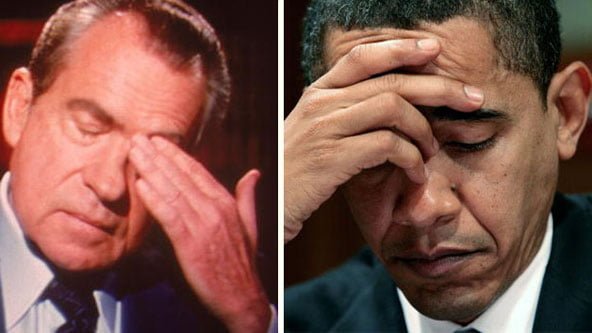 He's a hero to tens of millions of Americans who have an almost cult-like belief in his demagogic super natural abilities to spread peace to the world, heal the sick and bring equality to the masses.
The mere mention of his faults elicits anger and outrage among his followers.
Suggest that he may have been involved in the targeting of Americans for tax audits on the basis of their political ideologies and you're dismissed as a partisan. Provide evidence for the fact that he, and only he, was solely responsible for the lack of action in Benghazi, Libya that led to the deaths of four Americans, and you'll be lambasted as a conspiracy theorist. Attempt to link him to his Justice Department's wire tapping of independent journalists, and you'll be called a hack.
Fast and Furious gun running, collusion with pharmaceutical companies, back-room deals with financial conglomerates – none of it matters when the savior is at the helm.
The President of the United States, for all intents and purposes, is considered above the law by his supporters.
More blatant, however, is that it's highly likely that the President himself, just as Richard Nixon before him, believes that he lives by his own set of rules and isn't subject to the same investigative and judicial proceedings as the rest of Americans.
And like President Nixon, who left office in disgrace for his crimes, President Obama is, as depicted in the video below, literally repeating the same excuses and deflections in a focused effort to avoid a similar fate.
The comparison is striking.
On August 9, 1974, president Richard Nixon resigned from office following damning revelations regarding a cover up relating to a break-in at the Democratic National Committee headquarters at the Watergate office complex. Eventually the scandal also resulted in the indictment, trial, conviction, and incarceration of dozens of Nixon's top administration officials.

Prior to his resignation, Nixon's responses to the scandal were to feign ignorance, point to inaccurate talking points provided by aides, cite national security, and encourage the media to let him do his job. Fascinatingly, Obama has made almost exactly the same comments.

Is history repeating itself? Are the two presidents singing from the same scandal-ridden hymn sheet? Judge for yourself:

Nixon: "I first learned from news reports…"

Obama: "I first learned about it from the same news reports that I think most people learned about this."

Commentary and excerpts via Steve Watson at Infowars.com
Watch as the Revealing Politics Blog provides a striking resemblance between Nixon and Obama:
Equality already exists in America – at least it's supposed to. That what the rule of law means. It is to be equally applied to every citizen of this country, including the President of the United States and his subordinates.
And for the Office of the President, we have a legal procedure to ensure he is acting lawfully as he presides over the highest elected office of our land as a representative of the people. It's called impeachment, and it is a process by which the Executive in Chief is held accountable to the people he represents.
Somewhere along the way, it seems, the President, his millions of supporters and our Congressional membership lost their way and started living under the assumption that this elected representative can act with impunity and without being held to account for his actions.
Obviously, the President and his administration are hiding something – most likely their involvement in the aforementioned scandals and crimes. Like any American, regardless of his religion, political belief or perceived status, he must be investigated for these crimes by an independent prosecutor. And he must be judged by his peers, in an open and transparent court.
Otherwise, it's time we openly admit that this country is no longer the Republic it was founded as.