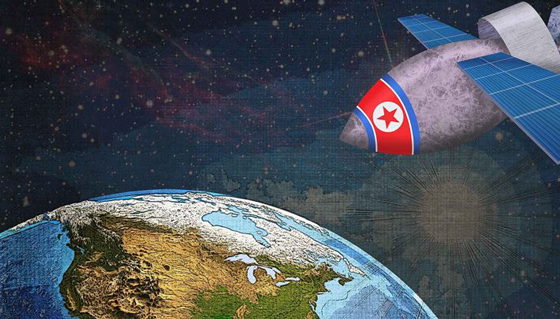 Russian President Vladimir Putin sent a letter to Kim Jong-Un of North Korea by way of a Russian diplomat, as reported on 9/8/18 by RT News. Here's an excerpt:
Russian Federation Council Speaker Valentina Matvienko gave a letter from President Vladimir Putin to North Korean leader Kim Jong-un during a Russian delegation's visit to Pyongyang.

The North's leader wishes to visit Russia after receiving Putin's message on Saturday. The time and venue for such a meeting will be discussed by the countries' diplomats, but Kim does not want to put it off, Matvienko said.
Interesting. Also very interesting is the fact of the upcoming Vostok 2018 military exercises coming up on September 11 and lasting a week or more. This will be the largest military exercise conducted by Russia since Zapad 81, an exercise conducted in 1981 with approximately 150,000 troops. Vostok 2018 will feature joint military maneuvers (naval, air, and ground) between Russia and China. Sergei Shoigu, the Russian Defense Minister has characterized the event (scheduled for 5 days) as a "Snap" drill. On April 8, 2014, U.S. Joint Staff J5, Vice Admiral Frank Pandolfe gave a briefing to the House Armed Services Committee that defines Snap Exercises, as such:
"…the Russian military adopted doctrinal change, placing greater emphasis on speed of movement, the use of Special Operations Forces, and information and cyber warfare.  They instituted 'snap exercises.'  These no-notice drills serve the dual purpose of sharpening military readiness while also inducing strategic uncertainty as to whether they will swiftly transition from training to offensive operations."
The point to keep in mind is that (as evidenced with the seizure of Crimea in 2014) a Snap exercise can transform into a real operation at any time. For the size and scale of this exercise (the largest ever conducted in Russia), here is an excerpt from an article by Business Insider on 8/28/18:
Over 1,000 aircraft, almost 300,000 servicemen at almost all the training ranges of the Central and Eastern Military Districts and, naturally, the Pacific and Northern Fleets and the Airborne Force will be fully employed. Russian forces will not be the only ones taking part this time around. Chinese and Mongolian units will also take part, with Beijing reportedly sending more than 3,000 troops, 30 helicopters, and more than 900 pieces of other military hardware.
Meanwhile things are precariously balanced in Syria without much being reported on it. The U.S. weighs in quietly, however, and as is evidenced by this excerpt from Sputnik News on 9/8/18, the country is still a major "sticking point" between U.S. and Russian relations:
The Russian Defense Ministry stated earlier that terrorists in the rebel-held Syrian city of Idlib have almost completed their preparations for a provocation involving chemical weapons. The US is ready to put forward its own plan to effectively fight terrorism in Syria and it is not going to cooperate with Russia on the issue, the Pentagon said in a statement. According to Gen. Joseph Dunford, he has not spoken with his Russian counterpart, Army General Valery Gerasimov, since the crisis in Idlib began and that he does not plan to communicate with him yet. The Pentagon spokesman has also reported that, according to estimates, about 20-30 thousand terrorists have entered Idlib to "hide among hundreds of thousands of people" who have fled violence in other areas of Syria.
And why would the U.S. cooperate, as ISIS was a creation of the State Department, and the policy has not changed toward deposing Assad? The U.S. cannot cooperate with Russia on the issue, as they would be fighting the very insurgency they created. This did not originate under the President's watch, and it is another key indicator that holdouts in Congress, the State Department, and the military command structure are still well-ensconced in positions that determine U.S. foreign policy in such matters.
Also on the table is the fact that from an economic perspective, Russia and China have been dumping a substantial amount of U.S. debt in the form of Treasury securities. The President has been making a lot of headway, but it is difficult to overcome the eight years under Obama in a short period of time. Add to that the fact that our foreign policy is truly undefined. North Korea quietly slipped away from the spotlight: after the meeting between President Trump and Kim Jong-Un, the "North Korea Must Denuclearize!/CARTHAGO DELENDA EST! mantra has quieted and almost vanished.
It must be stated that North Korea does possess the capability to strike the United States with a nuclear weapon, and it has the capability to launch an EMP (Electromagnetic Pulse) weapon against us. We need to keep a close eye upon these military exercises by Russia, China, and Mongolia, and remember the potential for them to "go live" at a moment's notice. The meeting between Putin and Un could be related to this, and let it not be forgotten that these nations have a tendency to strike on significant dates, such as 9/11…the planned commencement of the military exercise.
---
Jeremiah Johnson is the Nom de plume of a retired Green Beret of the United States Army Special Forces (Airborne).  Mr. Johnson is also a Gunsmith, a Certified Master Herbalist, a Montana Master Food Preserver, and a graduate of the U.S. Army's SERE school (Survival Evasion Resistance Escape).  He lives in a cabin in the mountains of Western Montana with his wife and three cats. You can follow Jeremiah's regular writings at SHTFplan.com or contact him here.
This article may be republished or excerpted with proper attribution to the author and a link to www.SHTFplan.com.