Via Paul Joseph Watson of Infowars.com:
The Mayor of San Leandro has halted a council-approved plan to fly a Communist Chinese flag over city hall on October 1st after the proposal sparked widespread public outrage.
Public pressure involving hundreds of phone calls and emails has convinced the Mayor that pulling the tribute to China is in the city's best interests:
three days after the San Leandro City Council voted to fly the Chinese flag over city hall, a dramatic about face.

San Leandro's Mayor used a powerful ordinance that allows him to suspend the City Council's decision.
Original Report: Kalifornia City to Fly Chinese Flag: "To Honor Formation… By Communist Leader Mao Zedong"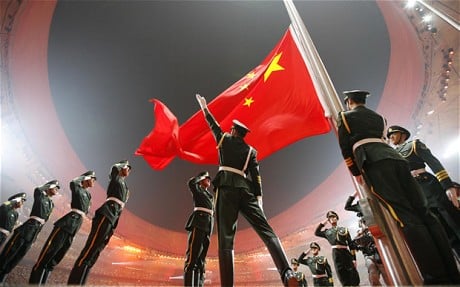 Some might not consider it that big a deal, but one California city is planning to raise a Chinese flag over their city as a symbol of honor and openness to Chinese people and businesses  living in their community.
Despite the objections of residents and human rights groups, the city council of San Leandro, Calif., decided in a 4-3 vote to fly the flag over its city hall Oct. 1 to honor "the formation of the sovereign state in 1949 by communist leader Mao Zedong…

…

"Raising the flag gives us the opportunity to show the openness to the people of China, the business people of China, to show that we welcome that investment and we welcome the prosperity," [Councilman Benny] Lee said, according to the San Jose Mercury News.

WND Via Steve Quayle
The fact that the Chinese government of Mao Zedong is responsible for the executions of 65 million people during his cultural revolution of the 20th century was, apparently, not a consideration for the four members who voted in favor of flying the communist flag.
What's notable is that the very same city government which is so tolerant of mass exterminations and human slavery, would shun a symbol such as the Christmas tree.
You see, San Leandro is one of those cities that chooses to light a Holiday Tree instead of a Christmas tree, taking great care to not mention "Christmas" in any form or fashion in their council meetings or publications.
The hypocrisy of some of our politicians has no bounds.
So the message being sent is really that San Leandro is open to the ideals of communism, yet God or those who believe in God cannot be tolerated?
Moreover, by raising the Communist flag (and that's exactly what it is) at an equal height as our own flag San Leandro is saying that American exceptionalism, rooted in individual liberty and free expression, is on par with submission to the collective whims of a police state.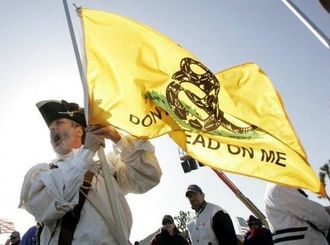 If this is about tolerance and openness, will they being flying the Gadsen flag any time soon, to show their support for those residents of their city who reject the notion of political hacks injecting themselves into every aspect of their lives?
Not likely.
Perhaps next month the San Leandro government will decide to raise the flag of Islam to honor the peaceful religion which calls for the deaths of infidels and forces eight year old 3rd graders into marriage.
Or maybe they can just contact the flag supplier of the United Nations and show their solidarity with a one world government.
If you happen to be driving through San Leandro, California any time soon, be sure to show them what you think of their new flag… by not stopping. You won't be alone.
He noted Oct. 1 "celebrates the conquest of China by Mao's brutal communist forces in 1949 and the establishment of a regime that has killed more people than any other on Earth."

"Apparently 'partnering' with these sort of criminals is what San Leandro wants to be known for," Autry said.

He called for boycott of San Leandro and a demonstration there Oct. 1.

"Bring your own food and fill up your gas tank before you enter town. Never do any business in or with a San Leandro firm," he said.
There was a time in America when the people would have burned that flag, ripped the flag pole from the ground, and ousted the city council members from their chairs by force.
Today, those people are accused of being extremists and terrorists… a testament to the spread of communist tolerance and openness to all four corners of the earth.