Better late then never.
The U.S. government has begun ordering tens of thousands of Hazmat suits to combat Ebola in Africa and in anticipation of a potential outbreak within the borders of the United States, according to a new report from Paul Joseph Watson of Infowars.
The U.S. State Department has ordered 160,000 Hazmat suits for Ebola, prompting concerns that the federal government is anticipating the rapid spread of a virus that has already claimed an unprecedented number of lives.

In a press release posted by Market Watch, Lakeland Industries, a manufacturer of industrial protective clothing for first responders, announced that it had signaled its intention "to join the fight against the spread of Ebola" by encouraging other suppliers to meet the huge demand created by the U.S. State Department's order of 160,000 hazmat suits.

"With the U.S. State Department alone putting out a bid for 160,000 suits, we encourage all protective apparel companies to increase their manufacturing capacity for sealed seam garments so that our industry can do its part in addressing this threat to global health," states the press release.

The huge bulk order of hazmat suits for Ebola has stoked concerns that the U.S. government expects the virus to continue to ravage countries in west Africa and may also be concerned about an outbreak inside the United States.

Although the State Department has announced that it is planning a "surge" of emergency medical personnel into western Africa, only 1400 federal workers are currently in the region, suggesting that the 160,000 figure is far higher than what would be required merely for sending medical workers abroad.

Full report: Infowars.com
The orders come on the heels of numerous warnings from researchers and health care officials who say that the Ebola contagion may be so widespread that it could eventually infect up to 5 million people in Africa.
Mathematical models suggest that, at its current spread, Ebola could infect up to 10,000 people by the end of this month and as many as 100,000 by December if efforts to contain the virus fail. Thus far nearly 5,000 people have reportedly contracted the virus and all indications are that this number continues to grow.
Researchers at MIT and the New England Complex Systems Institute have developed a model that shows what might happen should the virus make its way out of Africa via major transportation hubs that include England, Europe proper, Asia and the United States. The results are frightening and show an eventual spread to every populated region of the earth. 
Scientists say that the current outbreak will likely take at least 12 – 18 months to contain, and that doesn't even account for the possibility of a mutation, such as the virus being fully airborne like the flu or common cold. In such an instance, we could be looking at a widespread catastrophe that would far exceed the 5% global population die-off experienced during the Spanish Flu of 1918.
What is not being said publicly, according to a previous report, is that this Ebola outbreak has had an unprecedented hyper evolution that may lead to it eventually being transmissable by breathing, as opposed to bodily fluids and droplets in the air. According to experts at the CDC and WHO, the virus is out of control. "we are in totally uncharted waters and that Mother Nature is the only force in charge of the crisis at this time," according to the New York Times.
With the government having deployed Ebola bio detection kits and mobile containment labs to National Guard units in all 50 states, the latest order for 160,000 Hazmat suits suggests that virus is no longer just something that will affect cities in Africa.
The government is preparing supplies for the eventuality that Ebola will reach U.S. shores. Hospitals across the United Sates are taking the threat seriously and are setting up infection and control procedures to deal with a potential outbreak.
Despite assurances that our medical infrastructure is prepared to deal with a pandemic crisis, it is not clear how effective the response will be, especially if the virus mutates and becomes capable of spreading by air.
In such an event it is likely that the infections will be so high amongst the population, especially in major metro areas, that the entire infrastructure will be overwhelmed. Hazmat suits may keep health care workers and first responders safe, but the virus will spread like wildfire through the general population.
If the virus were to begin spreading in the U.S., the only real method of prevention will require that every individual and family have a Pandemic Preparedness Plan.
Mike Adams of Natural News has developed a free Bio Defense How To Course to help individuals prepare for Ebola and pandemics in general.
Tess Pennington, author of the highly rated Prepper's Blueprint, provides some tips and strategies to implement right now, before an emergency is declared.  She suggests preparing contingency plans that may include a sick room, quarantine procedures and essential supplies to help prevent infection within your own home.
If this outbreak is real, and all evidence suggests it is, then it is likely only a matter of time before it reaches the United States.
The day it does all hell will break loose.
You'll want to have your pandemic supply room stocked and ready before that day comes.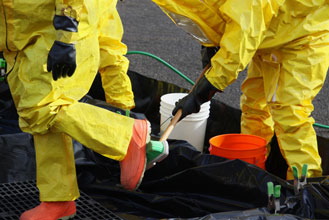 Related: N-100 respirator masks, Tyvek body suits, protective eyewear, gloves, shoe coverings and essential preparedness supplies