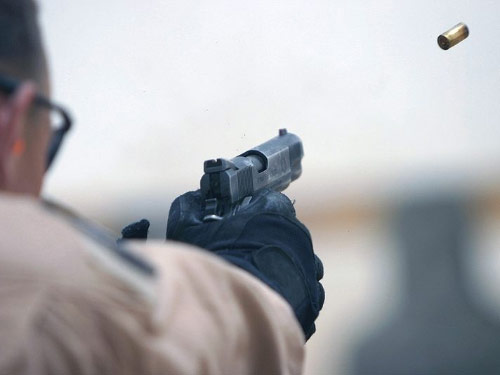 This article was written by Paul Joseph Watson and originally published at Infowars.com.
Editor's Comment: It is clear over and over again that concealed carry individuals save lives. No wonder that nearly every shooting happens in a gun free zone – like a liberal state, at a school or college campus or on government property. Though the politicians are very good at grandstanding on the reasons why we should let down our guard about the 2nd Amendment and enact gun control – they can't and won't save us.
That is the fallacy of gun control, which everyone knows – criminals don't follow laws. Mass shooters are likely suicidal and rarely outlive their actions at scene of the crime. Armed guards, armed teachers and armed citizens are all better options than leaving people helpless. The fact that the shooter reportedly asked victims if they were Christians before killing them just makes the persecution that much more pointed and obvious.

Former Security Guard at Oregon College: Lockdown Procedures Were a "Deathtrap"
by Paul Joseph Watson
A former security guard who worked at the Umpqua Community College where nine people were shot dead yesterday exclusively reveals to Infowars that the college voted against hiring armed security guards just last year and that inadequate lockdown procedures ensured the campus was a "deathtrap" for potential victims in an active shooter situation.
Although wishing to remain anonymous, the individual provided us with his photo ID and a reference which confirmed his employment at the college. The man is also in close contact with people who still work at the college.
Confirming media reports that the college only had one unarmed security guard on duty, the individual reveals that the schoolboard voted just last year against providing armed security on campus.
"What they haven't released is that the school board recently made massive cuts to the security staff, among other staff. All in an attempt to free up money in the budgets to spend on all the shiny new construction projects occurring on campus the last couple of years," he writes. "The schoolboard routinely puts pet projects ahead of providing service to the students. Just last year the schoolboard voted against providing armed security officers for the campus."
He also lifts the lid on how the lockdown procedures for an active shooter on campus, which were practiced just last week, ensured that the college was a "deathtrap" for potential victims.
"Just last week there was a training for staff on active shooter lockdown procedures," he writes. "The college was pleased to note that yesterday the lockdown procedures worked as they should have. But in reality they are a joke. The way the buildings are designed is that it is a deathtrap to stay locked in a classroom. The majority of classrooms have one entrance/exit which exits into a covered outdoor breezeway. The wall that has the door to be locked down are glass from floor to ceiling. There is no cover, and other than window blinds no concealment."
The individual's criticism of the college's lockdown procedures echoes concerns voiced by some that such policies only turn students into sitting ducks and prevent them from leaving the scene as quickly as possible.
The individual also notes how the college's $40,000 dollar emergency notification system did not fully work, remarking how, "No notifications to students and faculty who were off campus or on their way to were sent."
The security officer also clears up the confusion surrounding whether the campus was a 'gun free zone' or not. Although the college had a rule that prohibited guns on campus – including water pistols – state law allows concealed carry.
"The catch is that the school does not encourage it but they are legally powerless to stop it," writes the security officer. "I personally know of one student, who was interviewed by Breitbart, and of one employee who had concealed handguns on campus yesterday."
As we reported earlier, an Air Force veteran with a concealed carry license was prepared to violate the 'gun free zone' rule and attempt to apprehend the shooter, but he was stopped from doing so by college staff.
This article was written by Paul Joseph Watson and originally published at Infowars.com.