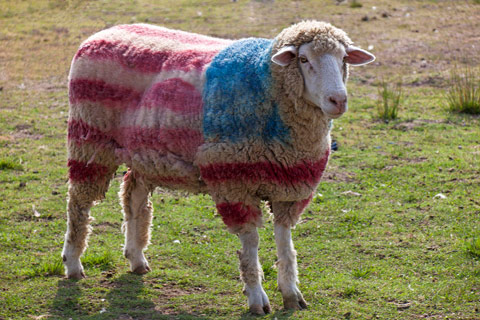 Judge Andrew Napolitano recently wrote an article for the Washington Times titled, "Why Americans Must Stop Actin Like Sheep, and Tell The Government To Take A Hike!"  So many of us have been saying this from the beginning.  They don't care about us, and it's up to us to disobey them out of existence.
There are no orders if there are no order followers. But like sheep going to slaughter, Americans line up to obey the very people responsible for mass murder (called war), the theft of the fruits of their labor, and the dumbing down and enslavement of their children.  In a matter of months, Americans have fallen into line like good sheep to obey those we know use the mainstream media as enslavement propaganda.
David Icke To LEOs & Military: "Look Your Children In The Eye" & Tell Them YOU Enforced Tyranny
If anyone had suggested that the governors of all 50 states, in varying degrees of severity, would be using police to interfere with personal choices — choices that we and our forebearers have all made without giving a second thought to the preferences of the government — no one would have believed it.

Think for a moment of how you would have reacted to any pre-COVID-19 idea that the police in America — using not the force of opinion but the force of arms — would prevent you from going out of your home, operating your business, jogging in a park, patronizing a restaurant or clothing store, buying a garden hose, going to Mass or church or temple or mosque or even joining a small public gathering of folks who want to protest these prohibitions. –Judge Napolitano, The Washinton Times
The good news is that some people have gotten off their knees and stood up to the tyrants.  The bad news, is there still aren't enough of us.
If You Want To Be Free, Stop Complying With Tyranny
We have fought wars against tyrants who wanted to tell us how to live. Today, we have elected our masters who are doing just that.
Americans seem to accept the restrictions on our rights to speech, religion, travel, and commercial activities simply because the origin of those restrictions is a popularly elected person. But even an elected government can be tyrannical. –Judge Napolitano, The Washinton Times
As Napolitano says, too many Americans are now afraid of the government.  They fear repercussions if they actually live freely as the sovereign beings they were born to be. It's time to take some responsibility. If any of us want to be free, we must stop complying with tyranny or line up for the slaughterhouse like good little sheep. It has come to the point that there are no other options.
 "When tyranny becomes law, rebellion becomes duty." – Attributed to Thomas Jefferson