The hypersensitivity of what is perceived as terroristic behavior is now regularly highlighted by incidents such as the teenage girl who was detained by TSA for having a gun design on her purse or the FBI targeting those purchasing preparedness supplies as suspicious.
The latest incident to be blown out of proportion (literally) comes to us from San Jose, California, where police mounted a full scale response when alert citizens at the local post office reported that a man in unusual gear was fidgeting with a package.
In defense of those who see something and say something, in this particular instance, the man later identified as Cal State student Long Hoang, was sporting a cardio mask, oxygen tank and vest which could easily have been mistaken for a gas mask and body armor, and the package he was messing with could have been a chemical or biological weapon: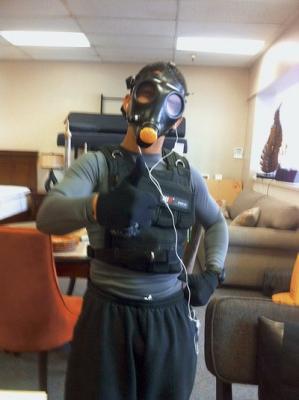 Sometimes, we don't know whether to laugh or cry, but admittedly, this one had us chuckling.
Word to the wise: Maybe it's not the smartest thing to jog in what looks like a gas mask and body armor, and then jam a package in a post office box.

It could touch off what happened Tuesday at the busy San Jose post office on Lundy Avenue: a full-scale police response, complete with the bomb squad and a robot.

But San Jose police said the suspicious-looking jogger seen fidgeting with a package at a drop-off box was only working out in hard-core, albeit odd-looking, exercise gear.

"The guy said he was wearing a cardio mask," said Sgt. Jason Dwyer. "It was his cardio day, and he was trying to lose weight."

That's not what a post office customer thought when the man in the weird mask and vest was stuffing a package in a blue mail box about 12:30 p.m. The customer called police, and in a flash, the post office was on lockdown until 4:30 p.m., with 150 employees and customers tucked away in the back. The San Jose police bomb squad, the Fire Department's hazardous materials unit and the postal inspector descended on a normally quiet strip of North San Jose. A robot detonated the package, which turned out, police said, to be a bunch of calendars.

Source: Mercury News
Hat tip Silver Bean