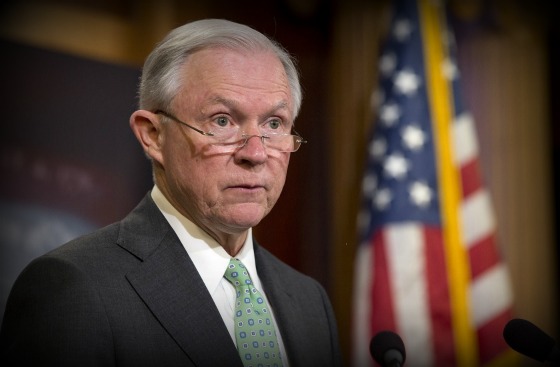 We should hope that Jeff Sessions' recently-instituted changes are not the result of the administration, and rather that he is the sole architect of those abrupt changes in DOJ policy. On the surface, some of them may seem "effective," however, Sessions' credibility has been under scrutiny recently for his meetings with the Russian ambassador prior to the President's election, along with his reluctance to investigate Comey, Mueller, or Hillary Clinton. The first item was supposedly to meet with the Russian ambassador to discuss Ukraine and the separatist conflict in the Donbass.
The remainder? The Russian Uranium deal was made by Bill Clinton in 2005, finalized two years later. Hillary Clinton became Secretary of State under Obama in January 2009, and Kazakhstan was already sending in tens of millions to the Clinton Foundation. Rosatom and Uranium One (a Canadian firm), the GRU (also known as the "Aquarium," the Russian (formerly USSR's) version of our CIA, almost 300,000 acres of Wyoming that would be mined for Uranium…
The complexity is staggering, although it is not the scope of this article. Rosatom supplies technicians and equipment to Iran: it is a Russian firm, and as much as Hillary Clinton verbally denounced Putin, she was more than willing (while in her official role as Secretary of State, mind you) to broker a deal giving Putin and Rosatom controlling interest in Uranium One. The Russians would acquire a tremendous amount of American uranium.
The point: all of this is going on, and the Attorney General of the United States, Jefferson Beauregard Sessions III is much more heavily-engaged in cementing a policy of almost Draconian "reforms" that will help big business, increase statist and oligarchic power in the United States, and tighten the noose a little more around the neck of the American people.
As reported by Rachel Blevins writing for Activist Post, a recent article entitled War on the Poor: Jeff Sessions Rescinds Legal Doc That Ended Debtors' Prisons, published on 12/30/17. The article covers how Sessions rescinded a policy letter of 2016 that forbids the imprisonment of the poor because they cannot pay court fines and fees. Here is an excerpt from that article quoting Sessions:
"Last month, I ended the longstanding abuse of issuing rules by simply publishing a letter or posting a web page. Congress has provided for a regulatory process in statute, and we are going to follow it. This is good government and prevents confusing the public with improper and wrong advice. Therefore, any guidance that is outdated, used to circumvent the regulatory process, or that improperly goes beyond what is provided for in statutes or regulation should not be given effect. That is why today, we are ending 25 examples of improper or unnecessary guidance documents identified by our Regulatory Reform Task Force led by our Associate Attorney General Rachel Brand.  We will continue to look for other examples to rescind, and we will uphold the rule of law."
So, Sessions is now the Champion of the Rule of Law (De Facto or De Jure being synonymous apparently). Rather, the champion of the will of the corporate and political hierarchy to continue its slow-sliding repeal of justice for the common citizen while turning a blind eye to those nabobs who should be bedecked in orange this very moment.
The prison industries (another "partner" of the federal government) stand to benefit by such a thing. Read Blevins' article for some sterling examples of where a few dollars due to happy Mayberry-type municipalities were turned into thousands, along with prolonged incarceration and, of course, a ruined record for the individuals. Sessions' actions are not confined to the justice system, however: as a "moral guardian" and the head of the Department of Justice, Sessions is now attacking marijuana.
Personally, I am against the consumption of cannabis for what is termed "recreational use." From a medical perspective, however, marijuana (Cannabis sativa) has many applications: for the treatment of glaucoma, and the treatment of severe cancer pain, among many others. For years the AMA (American Medical Association) as well as the federal government denounced and denied the potential for Cannabis to be used medically.
It may interest you to know that even with this denial through the years, the FDA acquired the patent for Marinol, a synthetic derivative-replacement for Cannabis.
Sessions (on January 3) announced that he would be rescinding policies that advocated a "hands off" policy of feds regarding actions in states that legalized the use of marijuana. Federal law supersedes subsequently-created state laws; however, the problem is more than what it appears on the surface. The reasoning by Sessions was given as a way to combat illegal trafficking in marijuana, but the spillover will occur in the state-approved facilities used for genuine medical reasons. An article from the Daily Beast summarizes the new DOJ position on the Sessions maneuver:
The Justice Department itself had trouble explaining why Sessions was making his move now and what immediate ramifications there would be for the decision. In a morning teleconference with reporters, a senior DOJ official simply said that "U.S. Attorneys' offices need to determine what cases need to be brought." As to whether or not this decision would lead to more marijuana prosecutions, there was no definitive answer.

"I can't sit here and say whether it will or won't lead to more marijuana prosecutions," one of the officials told reporters.
So, the "official's" nebulous response is only too apparent: those with influence and those who pay more taxes into the system will (as par for the course) not be prosecuted. As for those others? Who knows what is in store for them.
"U.S. Attorneys' offices need to determine what cases need to be brought."
Is this not selective interpretation of the law? Deciding which ones will be brought to trial, and which ones will be ignored?
With liberty and justice for all, right?
So, Sessions is on a crusade that apparently leaves the "prominents" such as those mentioned earlier out of the loop.  The last question is how much the administration either knows about or approves of such maneuvers.  As can clearly be seen from the Uranium One example provided earlier, Hillary Clinton abused her position…and the "big" fish…Obama…squirmed out of the net completely. Interestingly enough, Clinton resigned after Benghazi…where a U.S. consular outpost and CIA annex were attacked and destroyed, and a U.S. ambassador and four of his staff were killed. Obama's Teflon allowed those rotten eggs to slide right off the surface and onto Clinton's head…and she resigned before any formal charges could be brought up while she was in office.
How much does this President know? Sessions did try to resign earlier, and the President did not accept his resignation. Surely that could be a ruse to show disagreement between the two, and distance the President from Sessions while the latter came under scrutiny for his meetings with the Russian ambassador. Yet Sessions is still in the DOJ's top slot, isn't he? It is unknown whether his changes are his own "reforms," or rather, a reflection of administration policy.
Follow the money, and there will surely be a trail of some sort in Sessions' direction. Follow any increases in his bank account, especially any contributions from GlaxoSmithKline, or the other pharmaceutical companies with a vested interest in keeping the public addicted to crippling opium-based painkillers such as morphine or oxycontin. Insys Therapeutics is a company that paid $500,000 in 2016 to quell cannabis-favorable initiatives in Arizona by contributing to the opposition groups. The company peddles Fentanyl, a synthetic opioid analgesic 50 to 100 times more powerful than morphine, and very addictive.
The final item to mention: Sessions owns investments in two mutual funds that hold stock in private prisons. In a financial disclosure to Congress in December of 2016, Sessions revealed that he owned Vanguard fund accounts…and Vanguard is the investment management company that owns the most stock in private prisons than in any other in the U.S. You can read more about it here.
Here's a little more to interest you. This report  from Nonprofit Quarterly explains how former aides to Sessions are in deep with the private prison industry. Here's an excerpt from that report:
…NPQ wrote about the new memo from Attorney General Jeff Sessions that brought private prisons back into play on the federal level. We pointed out that stocks for private prisons plummeted when then-Deputy Attorney General Sally Yates ordered they be phased out last year. We reminded you that the day after Trump's election, those stocks soared. Now, we read in The Nation that in October, just before the election, two of Sessions' former Senate aides, David Stewart and Ryan Robichaux, became lobbyists for GEO Group, one of the two largest private prison companies, and that the two were specifically engaged to lobby on government contracting. The private prison industry has a big investment in the future of mass incarceration. Even more infuriating, much of that in the short term may be tied to immigration enforcement policies. "With respect to detention services," said GEO Group CEO George Zoley on a recent call with investors, "we would continue to be the largest provider of detention services to the three largest government agencies—that is, ICE, the Bureau of Prisons, and the U.S. Marshals Service.
No "handwashing" or favoritism there, right? Wrong. Sessions' rescinding of protection for citizens unable to pay fines from debtors' prisons and his new crusade on marijuana will surely help to swell the ranks of new "serfs" within the private prison system. If he can do this and skate out of any conflict of interest? Then next he will be receiving something from the pharmaceutical companies to pursue an "attack dog" policy and shut down competition from Cannabis against their opioid analgesics. Sometimes there is no money trail initially, but it always surfaces with time. Business as usual in what used to be the United States of America.
---
Jeremiah Johnson is the Nom de plume of a retired Green Beret of the United States Army Special Forces (Airborne).  Mr. Johnson is also a Gunsmith, a Certified Master Herbalist, a Montana Master Food Preserver, and a graduate of the U.S. Army's SERE school (Survival Evasion Resistance Escape).  He lives in a cabin in the mountains of Western Montana with his wife and three cats. You can follow Jeremiah's regular writings at SHTFplan.com or contact him here.
This article may be republished or excerpted with proper attribution to the author and a link to www.SHTFplan.com.