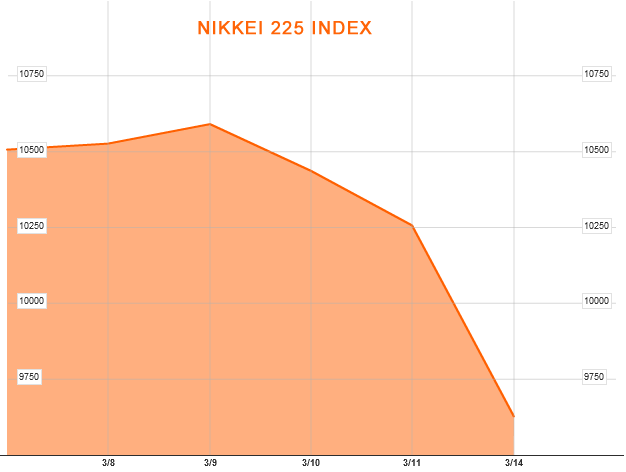 Japan's Nikkei Index, which measures the top 225 companies on the Tokyo Stock Exchange, went into an almost immediate freefall after Tsunami waves began washing up on the country's northeast coast. The Nikkei 255 Index, which reached a high of 10,600 point on Wednesday, had tumbled to 10,250 points by Friday's close. The earthquake off the coast of Japan hit at approximately 2:00 PM Japanese time on Friday, March 11.
By close of business Monday, as Japanese officials struggled to maintain order amid a potential nuclear meltdown at multiple reactors, stocks had dropped an additional 650 points, wiping out over 6% of the index's market capitalization. The country's central bank, the Bank of Japan, has responded to the disaster by injecting some 15 Trillion Yen ($183 Billion) into the financial system in an attempt to stabilize markets and stem panic.
Other stock markets around the world fared better than Japan as events on the ground, recovery efforts, and the Tsunami's impact on the Japanese economy remain in question.  Japan is the world's third largest economy after the European Union and The United States.
With northern Japan in ruin, tens of thousands still missing, and millions without power, Japan will most certainly see negative economic growth in the short-term. If the nuclear reactors, which some Japanese officials say are under control, were to go into complete meltdown and send radiation into surrounding areas and across the Pacific, the economic effects on Japan, Asia and the rest of the world would be felt within days, with stock markets providing a forewarning as panicked investors sell off assets, especially in consumer-related industries like manufacturing, transportation, and retail.
Most stock markets outside of Japan kept losses on Monday to under 2%, however, the legitimacy of the official news reports coming out of Japan are in question, especially with respect to the nuclear power plants. Mixed information has only added to the confusion, with some officials reporting that everything is under control, while others indicate that fuel rods are completely exposed and have melted down, or are in the process of melting down. Radiation exposure has been measured in residents on the ground, as well as on a US Naval vessel traveling through a radiation cloud, and US emergency response helicopters on which 17 members of the US Navy were treated for radiation contamination.
News reports continue to be mixed, leading to uncertainty, but not yet complete panic, in financial markets. Gold and other precious metals, which are considered to be measures of not just inflation, but global crisis sentiment, have seen minor gains on Monday suggesting that global investors have not yet shifted capital into safe haven assets.
With an already failing economic recovery in the US, a black swan variable such as the Japanese quake, Tsunami and nuclear crisis may very well be the tipping point that sends the entire world into a financial and economic catastrophe.