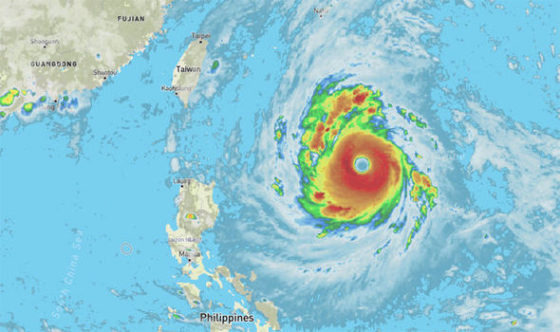 As Japan braces for typhoon Trami, weather experts are warning that this storm could have "life-threatening impacts" when it hits. Trami will slam into the Ryukyu Islands and barrel into mainland Japan with destructive winds, flooding rain, and an inundating storm surge Friday night into Monday.
According to AccuWeather, residents should be preparing themselves for what could be a major devastating event.  Residents should be making the necessary precautions to protect themselves and their property against this dangerous typhoon, which is equal to a category 3 hurricane. Those living in the coastal communities and in flood-prone areas should pay attention to local authorities and heed evacuation orders.
Experts have said that at this time, all locations in Japan are at risk for impacts from Trami in the coming days. "Trami remains on track to blast the Ryukyu Islands Friday night into Sunday morning, with mainland Japan bracing for the blow Sunday into Monday," said AccuWeather Senior Meteorologist Kristina Pydynowski. "Time is running out for preparations in the Ryukyu Islands," Pydynowski said.
Major flooding and mudslides are also possible and Pydynowski is warning everyone to not go outside. "Anyone outside during the height of the storm can endure bodily harm or be fatally struck by flying debris," Pydynowski said. All of Kyushu, Shikoku and western Honshu will face torrential rain that can trigger widespread flooding and mudslides. This includes some of the same communities that endured the historic flooding over the summer.
The heaviest rain may fall north and west of Tokyo, but wind gusts of 95-145 km/h (60-90 mph) can still whip the city on Sunday night. Haneda Airport may be forced to shut down for a time. While the drier weather will quickly return for Monday, the morning commute and daily routines can still be disrupted due to any damage, littered roads or rail lines or power outages left in the wake of Trami.