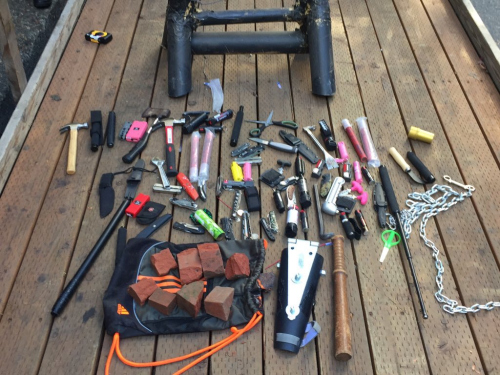 On Sunday, members of a Pro-Trump free speech rally, as well as Antifa counterprotesters thugs, converged in Portland's business district. Fortunately no one was seriously injured, and the police managed to form a barrier between the two groups. However, based on some of the weapons that the Portland Police Department confiscated, it's obvious that the event could have been far more violent.
These are some of the items that have been seized so far today. pic.twitter.com/VsfenLPZhS

— Portland Police (@PortlandPolice) June 4, 2017
Though many conservative websites have suggested that those are sticks of dynamite, they're actually flares. Thankfully, tensions between Trump supporters and Antifa aren't that bad, but based on some of the other weapons that were confiscated by police, it appears things are getting really ugly at these events.
Officers have made an arrest and seized several weapons from the suspect. pic.twitter.com/5IUUvqLHii

— Portland Police (@PortlandPolice) June 4, 2017
And another weapon. pic.twitter.com/6ZsgAWcGcY

— Portland Police (@PortlandPolice) June 4, 2017
According to the Washington Post:
There are axes and crowbars, dozens of sticks and makeshift clubs, canisters of mace, knives, hammers, batons and even a set of brass knuckles. Together, they offer an unsettling glimpse of the violence that has seeped into Portland's protests as the city has drawn extremists on the left and right in increasing numbers, becoming something of a proxy for the country's ideological battles.
The police haven't revealed which side of the protest these weapons came from, but once again, we know exactly which side was violent. It's been widely reported that members of Antifa threw 'glass bottles, bricks and balloons of "foul-smelling liquid"' at police officers, and some of the weapons that were confiscated were found in Chapman Park, where Antifa had gathered. The following image is also quite telling:
Items collected from SW Madison Street, 3rd to 4th Avenues, between Terry Schrunk Plaza and Chapman Square. pic.twitter.com/IiRhOxEJWv

— Portland Police (@PortlandPolice) June 5, 2017
Hmmm. I wonder who brought the "No Platform 4 Hate" sign?
I wouldn't be surprised if the police deliberately placed that sign there for the photo. The city government probably ordered the police not to reveal who brought most of these weapons, because it's most likely Antifa. The police probably staged that photo to let everyone know who was really causing problems at this free speech rally.
But in any case, it appears that members of both sides of this protest came to the event with weapons and makeshift shields. Unfortunately, the streets of America are looking more and more like a battlefield as time goes on. I shudder to think of what these protests will look like if they continue to escalate.