This article was originally published by Tyler Durden at Zero Hedge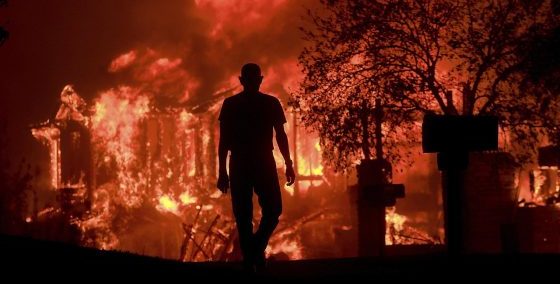 Images of charred palm trees and the burnt-out husks of multi-million-dollar homes flooded social media for a fifth day Friday as the SoCal wildfires that exploded into life at the beginning of the week showed no signs of slowing.
Instead, some of the largest fires have entered the heart of Los Angeles – America's second largest city – and are menacing some of the most expensive homes in the country.
To date, six large wildfires have scorched 141,000 acres in the state, with the flames spreading as far south as San Diego, Cal Fire officials said. At least 5,700 firefighters from several agencies and at least nine states are working to contain the massive walls of flames. The fires have forced 190,000 people out of their homes in a hurry. Many took only their pets and a few choice mementos.
The Skirball fire that's terrorizing Bel Air isn't nearly as large as some of the other fires raging in Ventura and LA counties, but it has had an outsize impact in terms of cost. Two days ago, local media reported that the fire had torched a mansion owned by media mogul Rupert Murdoch. Though Murdoch later clarified that the property was (mostly) intact, other homes in the area are at risk of being reduced to cinders.
So far, the fire has damaged many homes in the hills of Bel Air, Los Angeles' most expensive neighborhood according to Zillow. At least six of those, which Zillow estimates to be worth around $20 million, were completely destroyed on Wednesday.
According to the Wall Street Journal, about 1,700 homes were in mandatory evacuation zones from the Skirball Fire. The company estimates the homes' values totaled $6.4 billion, where the median home value is just under $3 million.
Beyond Bel Air, there are 86,242 homes in Ventura and Los Angeles counties that are at "some level of risk" from the Thomas, Rye and Creek Wildfires, according to CoreLogic. The combined reconstruction cost value of these properties is $27.7 billion – nearly triple the $10 billion in damages caused by the NorCal fires.
In Ventura County alone, 14,300 homes valued at a total of $10.4 billion were in mandatory evacuation zones, according to Zillow.
Just like with the fires that devastated California's wine country two months ago, the powerful Santa Ana winds have exacerbated the devastation. After a brief lull on Tuesday, the winds picked back up again Wednesday. And though they're expected to taper off again – albeit briefly – late Friday, winds of up to 80 mph are expected to continue through Sunday, making it difficult for firefighters to tame the blazes.
"We are in the beginning of a protracted wind event," Ken Pimlott, the director of the California department of forestry and fire protection, told the Los Angeles Times. "There will be no ability to fight fire in these kinds of winds."
All together, the four fires in Southern California – possibly the most destructive in the state's history – have scorched more than 116,000 acres so far, and despite the round-the-clock work of thousands of firefighters since Tuesday, they are still burning ferociously with little to no containment. For example, the Thomas fire northwest of Ventura is barely 5% contained.
All around the region, people encountered nightmarish conditions as flames seemed to come from everywhere. Patricia Hampton, 48, said she and her boyfriend woke up at her house in Ventura on Tuesday night to the sound of helicopters. Outside, the ground was covered in ash, the air so smoky it was hard to breathe as they hopped on bicycles and tried to flee, according to the Washington Post.
"We didn't know what had happened. We rode down into town trying to make sense of what we were seeing — police everywhere, firetrucks, helicopters," she said at a temporary shelter at the Ventura County Fairgrounds. "It was like a war zone. You could hear transformers blowing up."
Authorities are warning residents in nearby communities to prepare to evacuate, even if they aren't directly impacted by the fire. Residents should be ready to evacuate even if they don't live in areas immediately affected by flames, Cal Fire Division Chief Nick Schuler said Thursday night. Families should have an escape plan ready to go just in case, he said.
"They need to prepare as if they will be impacted. Where are they gonna go? What are their escape routes? What is their communication to their families?" he said.
Adding to the devastation in the region, the Lilac Fire in San Diego County started Thursday and grew to 4,100 acres in a few hours, leading to new evacuation orders. Evacuation centers have been set up in affected areas.
The Lilac Fire has left three people with burn injuries and two firefighters hurt. One firefighter suffered smoke inhalation while the second one had a dislocated shoulder. The latter popped it back into place and continued working, Schuler said. According to CNN, school boards have shut down schools spanning at least 16 districts.
Gov. Jerry Brown issued an emergency proclamation for Santa Barbara and San Diego counties. The declarations free state resources such as the National Guard to support response efforts. He's also requested federal assistance to supplement state and local emergency response.
Per CNN, here's a quick summary of the six largest fires.
Thomas Fire: The largest of the six blazes started Monday in Ventura County, and has scorched 115,000 acres. It's only 5% contained, and has destroyed at least 150 homes and threatening thousands more in Ventura, about 50 miles (80 km) north-west of Los Angeles.
Creek Fire: The second-largest fire is in neighboring Los Angeles County, and ignited a day later. It has burned 15,323 acres and is 20% contained.
Rye Fire: It broke out Tuesday in Los Angeles County and has burned 7,000 acres. Firefighters are making progress, with 25% of the blaze contained.
Lilac Fire: This fast-moving fire erupted Thursday in San Diego County, and has consumed 4,100 acres in just a few hours. It's unclear what percentage of it is contained.
Skirball Fire: It started Wednesday as a brush fire in Los Angeles County, and is now 30% contained.
Liberty Fire: The blaze in Riverside County has burned 300 acres since it ignited Thursday. It's 5% contained.
While no deaths have been reported so far as a direct result of the flames, three residents have been burned while trying to flee. And one woman was found dead after a car crash in an area under an evacuation order, the authorities said on Thursday, according to the GuardianWith 2017 on track to be the most destructive year for wildfires in California history, experts are warning that this could be the new status quo, given dry conditions across the state.
The Santa Ana winds are an entirely natural phenomenon of course, and they usually peak during the month of December. What is unusual is that wildfires peak during the autumn period. But because of the ongoing drought across California and the very dry weather during October and November, the conditions have been ripe for the wildfire outbreak we are now witnessing.
The current weather pattern is consistent with what climatologists refer to as the 'Ridiculously Resilient Ridge' which has become more prevalent in recent years. This results in cold weather across eastern parts of US, and unseasonably warm weather in western areas that we are seeing this month.
As this weather pattern intensifies, expect deadly blazes to become a perennial concern, Al Jazeera reported.