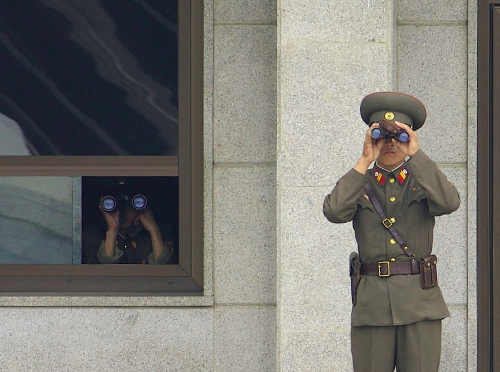 When you consider the possibility of war with North Korea, you'll find that there isn't any way that kind of conflict wouldn't end without widespread mayhem. The worst case scenario would include a protracted ground war on the densely populated Korean peninsula, involving millions of combatants and the addition of chemical and nuclear weapons.
The absolute best case scenario, would probably involve the swift decapitation of the North Korean regime. But that could still result in millions of refugees fleeing from North Korea, and into the South and China. It could also cause a power vacuum, where opportunistic elements in the North Korean government could vie for control of the country, leading to a bloody civil war.
And in any scenario there is the possibility that China will come to the aid of its neighbor, which could be the first step towards another World War. There simply isn't any way to remove the North Korean regime by force that doesn't create a mess of mind boggling proportions, and result in massive casualties. That's why it's not a big surprise that the Kim family has maintained control of their country for so long.
However, that doesn't mean that countries like South Korea, who would undoubtedly face the brunt of the North's military during any hypothetical conflict, aren't preparing to go take out the regime during an emergency. According to a South Korean newspaper which recently spoke to anonymous government officials, Seoul's Joint Chiefs of Staff are currently drawing up plans to execute a surgical strike against North Korea, which would decapitate that nation's leadership.
According to Munwha Ilbo, the plan mobilizes F-15 jets to target key operational command centers in the North, most notably "the windows of the office of the Chairman of the Labor Party, Kim Jong-un, at the Pyongyang Labor Party headquarters." Unnamed military officials told the news outlet that "surgical" counter-strike plans were being drafted as early as March 31.

Moon has reportedly requested the creation of a new 1,000 to 2,000-person Special Forces brigade "to eliminate war leaderships" and "paralyze command facilities in case of emergency."
The decision to draw up these war plans speaks volumes on how dire the situation with North Korea is. We know how disastrous any conflict with that country would be. The fact that the South's leadership is considering this option despite the obvious consequences, suggests that they think war with their northern neighbor may be unavoidable.
Related:
Trump: "We'll Handle North Korea. It Will Be Handled. We Handle Everything."
North Korea Just Threatened The US With Nuclear War
"Time Is Running Out" – China Is Planning For A Crisis Along North Korean Border