If you've got any doubts about whether or not political correctness has gone just a little too far, then look no further than the recent experience of college administrator Brian Farnan.
Farnan, who is the Vice President of  Internal Affairs at the Students' Society of McGill University, was trying to make light of mid term week at the school. He happened to be watching a Jay Leno monologue in which the former Tonight Show host jokingly analyzed President Obama's body language. It was, as is often the case on late night, nothing more than a joke that used popular video editing techniques to depict President Obama kicking in a door out of frustration after a meeting with Congressional members.
Brian Farnan thought it was funny. So he took a GIF image of the video and fired it out in his weekly email to students with the caption ""honestly midterms get out of here." His intention was to make light of the heavy testing that particular week.
What followed was hyperventilation from a hypersensitive school board and students, who apparently don't have a single humorous bone in their bodies. Complaints were filed almost immediately with the school's Equity Committee, claiming that Farnan was violating school rules by distributing "oppressive" information.
Because of privacy policies we don't know exactly what the Equity Committee concluded, but it resulted in an apology being issued by Farnan in which he strongly suggested that he was accused of racism for his offensive images. Under the school's policy, violating Equity Committee guidelines may result in suspension or termination, especially if the offending party refuses to publicly apologize.
Here's the picture and a snippet of the video Farnan sent in his email.
Does this particular imagery imply support of oppression or racism?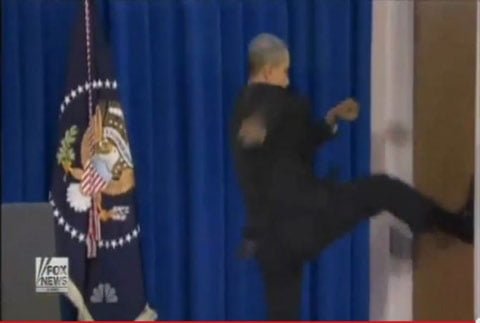 This is the actual 'Moving GIF' file that was sent: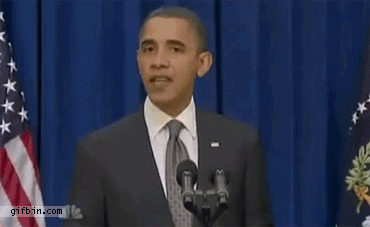 And the original Tonight Show clip:
Farnan apparently buckled under the pressure and issued the following public apology to school administrators, students, the President, and people of all races who may have felt insulted by his dastardly act of bigotry:
"The email in question contained the phrase "Honestly midterms get out of here" followed by a URL leading to a .GIF image of President Obama violently kick a door and storming out of a room following a press conference. The inclusion of the .GIF image was intended to bring a humorous tone to the email and use President Obama's frustration with the press conference in question to mimic the frustration students feel when confronted with midterm examinations. Despite the innocent intentions influencing my decision to use this particular image, I have come to recognize the negative implications of adding the .GIF image within this given context.

(…)

Oppression, as outlined in SSMU's Equity Policy, means the exercise of power by a group of people over another group of people with specific consideration of cultural, historical and living legacies. The image in question was an extension of the cultural, historical and living legacy surrounding people of color—particularly young men—being portrayed as violent in contemporary culture and media. By using this particular image of President Obama, I unknowingly perpetuated this living legacy and subsequently allowed a medium of SSMU's communication to become the site of a microaggression; for this, I am deeply sorry."
But that's not the end of the story.
Farnan's apology prompted another complaint, this time from a student who (gasp!) applied a little bit of common sense and took the email for what it was – a joke.
"Brian, your GIF didn't offend me, your apology did," the student complainant wrote.

"I am offended that you think I'm so shallow and high-strung that I would be offended by this."
To Brian Farnan, who was no doubt put into an untenable position, we say, 'great GIF.'
But, there's a time to stand up and point out the ignorance of society and those around you, even if it means losing your job. This was one of those times,  Mr. Farnan.
Unless of course you actually believe your own apology, in which case you're part of the problem and are complicit in the police state indoctrination of children in Canada and America alike.