This article was contributed by Portfolio Wealth Global.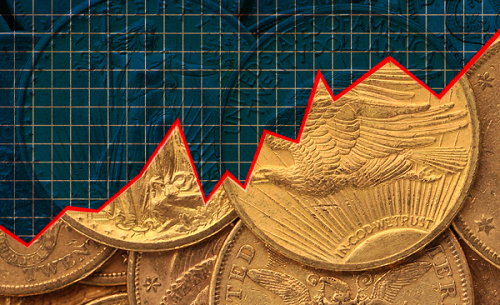 Before reading today's overview of the bulls and the bears on precious metals, a massive update from Gold Mountain (US: GMTNF), whose shares are surging today!!
Gold's price has gone from $2,070, its all-time high in August 2020 to $1,690 at its double-bottom, set in late March 2021. Since then, as inflation fears have greatly subsided (causing bond yields to stabilize), gold's price has shot up by $230/ounce in just two months!

Many are rightly concerned that this is too fast and too bullish, myself included.

So today, I want to go over what is going on and whether both gold and silver will pull back in June:
Economic Drivers: This Friday, unemployment numbers come out, and after the huge miss in April, the market is projecting 650K new jobs. If there's a big miss or overshoot, the markets will react to it.
The jobs market lets investors know whether or not there's a chance the economy will get overheated, causing the FED to tighten sooner. Stock prices are greatly impacted by interest rates.

The lower rates are, the more investors pay for stocks, in general, since chasing yields in bonds becomes risky and speculative with junk-rated debt, which pays higher returns.
Economic Drivers P.2: CPI numbers will be released on the 10th, and the focus is not so much the Y-o-Y difference (since last May, the world was parked in neutral), but the M-o-M change, because it will indicate current inflation trends.
The market anticipates a 0.4% increase, but if we get a big beat, it will be awful for markets, again because inflation will be the boogeyman.
Moment of Truth: Where all of this unwinds and becomes a soap opera is on the 16th because the FED will be conducting its FOMC meeting.
This is where Jerome Powell will explain what the FED believes should happen with regard to the economy as well as an additional stimulus.
If they stay nonchalant towards the booming economy, not fearing any significant imbalances, this will be a strong message in the face of all of this clear inflation in commodities, real estate, and margin debt.
What we've never seen in the past 30+ years is a situation where the red line – which is the size of the deficit relative to GDP – is so indicative of a far weaker dollar, without seeing a collapse in the DXY chart.

Right now, the dollar is clinging onto the 90.00 points support level, but if the dam breaks, precious metals could go a heck of a lot higher, especially silver.

We've already seen corn, soybeans, and wheat trading at multi-year highs. Even a food item as basic as chicken wings is priced at record highs!

Building materials like copper and steel are soaring in price, as are eating and living. With used car sales skyrocketing, driving places is also becoming more expensive.
As you can see, though, sentiment towards gold is still super-low!

In other words, even with this huge rally, people do not trust the breakout and that's healthy for a bull market.

My opinion is that the dollar's fate will be determined around mid-June, and if it plummets, gold is going above $2,000 again.