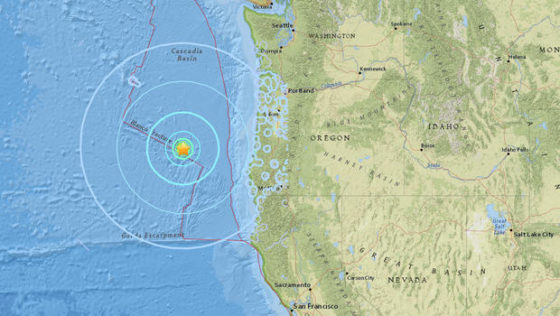 A magnitude 6.3 earthquake struck off the coast of Oregon on Wednesday.  The quake, which occurred 188 miles west of the town of Bandon is sparking fears that the Cascadia subduction zone will slip causing a major apocalyptic tsunami.
The quake was recorded at a depth of about 10 km, according to the USGS website and there was no tsunami warning issued. Robert Sanders said people as far away as Portland reported feeling the tremblor.  No injuries or damage has been reported.
All seems well and quiet on the West Coast.  For now.  But scientists still warn that the Cascadia subduction zone could cause a major event if the Juan de Fuca ocean plate, which goes under the North American continental plate causes a "slip" and a massive 9.0 earthquake. 
FEMA is already preparing for that exact scenario too. Although the San Andreas Fault in southern California gets more headlines, it is important to remember that the Cascadia Subduction Zone is a much larger threat by far.  This fault zone is where the Juan de Fuca plate meets the North American plate, and it stretches approximately 700 miles from northern Vancouver Island all the way down to northern California.
If a magnitude 9.0 earthquake were to strike, the immense shaking and subsequent tsunami would cause damage on a scale that is hard to even imagine right now.  Perhaps this is why FEMA feels such a need to get prepared for this type of disaster because the experts assure us that it is most definitely coming someday.  The following comes from the official website of the "Cascadia Rising" exercise (FEMA's operation to plan for a major quake):
A 9.0 magnitude earthquake along the Cascadia Subduction Zone (CSZ) and the resulting tsunami is the most complex disaster scenario that emergency management and public safety officials in the Pacific Northwest could face. Cascadia Rising is an exercise to address that disaster.

June 7-10, 2016 Emergency Operations and Coordination Centers (EOC/ECCs) at all levels of government and the private sector will activate to conduct a simulated field response operation within their jurisdictions and with neighboring communities, state EOCs, FEMA, and major military commands.
According to a professor of geophysics at Oregon State University, the Cascadia Subduction Zone has the potential to create an earthquake "almost 30 times more energetic" than anything the San Andreas Fault can produce.