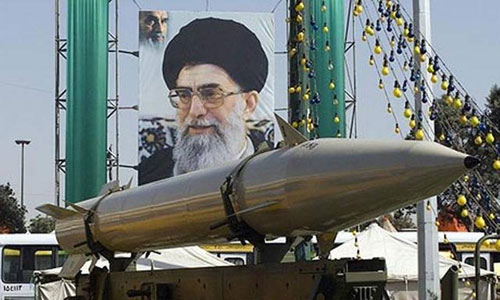 Iranian president Hassan Rouhani said on Wednesday: "We will bring the US to its knees in this battle of wills." The Iranian government is continuing to warn of harsh retaliation against the United States after the Trump administration pulled out of the 2015 nuclear agreement.
According to PressTV, the threat comes as Washington continues to attempt to bully its allies into halting imports of Iranian oil after Donald Trump unilaterally quit the cornerstone international nuclear agreement instituted by his predecessor, Barack Obama.  Iran has previously said there would be consequences should the US decide to withdraw from the agreement.
The United States, meanwhile, has continued to push Iran. After withdrawing from the 2015 Iran nuclear agreement, known as the Joint Comprehensive Plan of Action (JCPOA), in May the US vowed to reinforce economic pressure and sanctions against Tehran, reported RT.  While the European capitals have so far refused to leave the cornerstone security accord, on Tuesday the State Department threatened private companies with sanctions unless they completely cut Iranian crude oil imports by November.
Rouhani also seeks to unify all Iranians. "We will take problems. We will take pressure. But we will not sacrifice our independence," Rouhani vowed. "Even in the worst case, I promise that the basic needs of Iranians will be provided," the Jerusalem Post quoted Rouhani saying live on national television. Rouhani additionally noted that his administration will continue to defend Iran's interests and focus on strengthening the economy. "We have enough foreign currency to inject into the market."
The seventh president of Iran also ruled out any possibility that Washington could succeed in isolating his country. But the United States has been left isolated, as even its close allies, including France, the UK, and Germany, are working against the county's government to prevent the nuclear agreement from crumbling. Even the State Department had to acknowledge that cutting off Iranian oil imports completely is a "challenge" that no country "wants to do voluntarily."
Iran has also opened a uranium feedstock plant in the absence of the nuclear agreement. The nuclear plant that remained closed for nine years has now reopened Iran's atomic energy agency (AEOI) said on Wednesday.  Tehran prepares to increase uranium enrichment capacity if a nuclear deal with world powers falls apart, reported Reuters. Iranian Supreme Leader Ayatollah Ali Khamenei ordered the AEOI to start the necessary preparations to upgrade the country's enrichment capacity in case the European efforts at a world deal fail.
The UF6 factory is part of the Isfahan uranium conversion facility, according to AEOI's statement on its website.  The AEOI said on Wednesday that in response to Khamenei's order and Trump's renunciation of the deal, a plant for the production of UF6, the feedstock for centrifuge machines that enrich uranium, had been relaunched and a barrel of yellow cake has been delivered there.