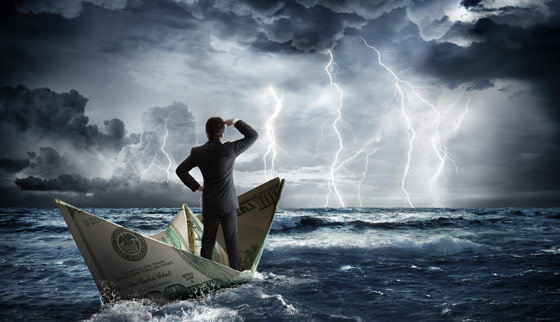 An influential survey of some of the world's largest fund managers shows that the risk for a global financial downturn is the highest it has been in four years.  Investors are now preparing themselves for the next recession, which some say, will make the Great Recession look like a cakewalk.
According to investors surveyed by Absolute Strategy Research, as reported by the Financial Times, investors are "buckling up" for the economic downturn they believe is imminent. ASR's findings, which are based on a survey of more than 200 institutions controlling a combined $4 trillion of assets, suggest that the bond rally is not a blip.
Global bond markets have rallied in recent weeks as central banks have been responding to the numerous signs that major economies are looking increasingly weak. Investors have since ramped up purchases of government debt last week after Christine Lagarde's nomination as the next European Central Bank (ECB) president.  It appears that investors are betting that the International Monetary Fund chief's appointment would mean the era of ECB stimulus is set to continue.
The survey indicates that investors anticipate a 45 percent chance of a global recession in the coming 12 months, the highest since the survey began in 2014. Investors have also shifted their views on where bonds markets are headed next. The majority now expect short-term US bond yields to be lower in a year's time — a reversal since March, when more than half were banking on higher yields. Expectations that longer-dated yields and record-low yields in Europe will rebound have all but disappeared. –Financial Times
According to David Bowers, the ASR head of research, the United States indices are yet to show some of the telltale signs of doom and gloom. "If the bond market is really telling us something, at what point will the equity market wake up?" he said. "The survey embodies a fundamental tension in markets," he added. "With recession risks running so high, you would expect a worse outlook for earnings. But the implicit assumption is that earnings risks for equities are not that great."
Fund managers are also more bearish on the dollar than at any point in the past five years, the survey showed according to the Financial Times report. A weaker United States dollar would be excellent news for precious metals, with nearly two-thirds of investors expecting gold prices to rise in the next year.
That makes now a great time to invest in gold or other precious metals.  Take the time to look around and get what you can afford.  Now isn't the time to go into debt to but gold, but there are some less expensive options out there.  You could also grab some silver.  Some silver is better than none if the dollar crashes under the weight of endless money printing and government debt.