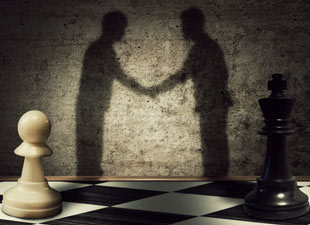 As the global economy deteriorates and uncertainty in the future becomes the prevailing sentiment, investment insider Marin Katusa of Katusa Research reveals in an interview with SGT Report that the the wealthiest people in the world have lost faith in not only their respective governments and central banks, but financial institutions and major investment fund managers who appear to be just as confused about how to position their assets as everyone else. Further complicating matters is a heated political season that has seen the rise of a candidate who, while despised by the establishment, could potentially shift the entire global paradigm should he be elected to the highest office in the United States.
It is within this context that Katusa explains how high net worth individuals are holding secret meetings in an effort to position themselves before the election by identifying what Katusa calls "The Trump Trade." Anticipating sweeping changes to America's energy policy and trade relationships, Katusa notes that some very influential people, though operating behind the scenes, are actively taking steps to protect their wealth and profit handsomely should Trump, or Hillary for that matter, become President.
So where does this all lead?

People talk about who's in control of the global economy… they talk about the central bankers… the G7… the meetings behind the closed doors… they are scared of Donald Trump because Hillary's part of the establishment but Donald Trump does not play to their rules… He does not play to the secret central bankers' agenda…

Now, that is the biggest wild card… The Trump Trade… Donald's big mantra is he wants to make America great… and I believe there are a lot of closet Trump fans that don't to talk about it publicly but during the election will come out… So there's a huge fortune to be made in the Trump Trade here… regardless of whether it's Hillary or Trump that wins, there's a few factors that are going…
Watch the full interview with resource expert Marin Katusa:
I'll tell you about a private conversation… The former Secretary of Energy of the United States… I had a discussion with him… He is very worried about exactly what we're talking about… the domestic security of resources for America.

Just recently this past week there was a conference… invite only… of the largest family offices… so the wealthiest people on the planet rather than giving their money to fund managers, they've realized 'wait a second, these fund managers are interested in their own fees and not in our best interests.'

So a lot of the most powerful family offices have gotten together and are looking for the news angles. And I was asked to speak with this group…

What is really behind the scenes… these are things you will never read in the Wall Street Journal… what they're excited about is contrarian investments and the conclusion was there is a huge Trump Trade here, but regardless whether it's Hillary or Trump, the two best ways to play this… not just in my opinion but the former Secretary of Energy and some of the largest family offices… is gold and uranium.
Uranium, the majority of which is primarily mined outside of the United States, could soon see prices rise significantly because of geopolitical conflicts. Considering it has seen a price decline of some 80% over the last ten years, Katusa believes the timing for this particular contrarian investment is nearly perfect.
Though uranium may not be on investors' radars yet, gold most certainly is. In recent months we've heard much about how well known billionaires like George Soros, Stan Druckenmiller and Doug Casey are piling into this asset class with purchases of physical bullion, gold ETF's and mining companies as a hedge against out of control government, inflation and global economic panic.
Marin Katusa is likewise investing in gold, but notes that he is not a buying a broad basket of gold companies through ETF's, but rather, is focusing his efforts on a handful of well managed miners:
They key factor in the resource sector is investing with the best people… moreso in resources than any other sector because of the volatility, because of the risk, because of the complexity of mining… it's a tough business.

… Gold really is about wealth preservation… if you lived in Russia in the past three years or Venezuela and you had a percentage of your net worth in gold you're doing much much better than everyone else around you because gold holds it value… Let's not fool ourselves here… We are in a new quantum realm of finance… we're not going to see high interest rates in North America or the Western world for a long time…

What you have to look at is 'how do I invest in a world drowning in debt?'

Gold has to be part of the portfolio… Gold should make up about 10% of your portfolio… Do your homework, invest in the right people… Amir Adnani was just selected by the private family offices as one of the three best ways to invest in the resource sector and we've put money behind Brazil Resources, Inc. on the Canadian exchange… he's got over eleven million ounces of gold… and this huge kicker for Uranium… That's why we're there.

… You don't need to own 40 gold stocks… there's this big misconception… you don't need that… you need the best management teams with the best projects… I don't like ETF's…. people over pay on these ETF's… they are a basket… I don't want a bunch of under performers…
One way or the other significant changes are afoot.
With Donald Trump now a 50/50 shot at becoming the next President of the United States money managers around the world are beginning to position themselves for the trends that will take hold should his anti-establishment platform become policy.
For those willing to identify and act on the trends, there is a lot of money to be made (and preserved).
The investment adage of buy low and sell high is as true today as it has ever been, especially considering the obscene valuations for Wall Street darlings. But there are high value, low cost assets to still be had and as is often the case, by the time most people realize it, the move has already happened. On that note, Katusa shares a little investment wisdom:
The media is there with an agenda… You want to invest in something that's going to be on the front page of the newspaper… you want to buy something that's not popular… you want to buy something that isn't on the radar… and when it becomes popular you want to sell to the masses.
To learn more about Marin Katusa, The Trump Trade and his latest strategies visit Katusa Research.
For more interviews like the one you just watched follow SGT Report.