This report was originally published by Jeremiah Johnson at Tess Pennington's ReadyNutrition.com.
Tess is the author of The Prepper's Blueprint: How To Survive ANY Disaster.
Six large new wildfires erupted in the United States, pushing the number of major active blazes nationwide to over 100, with more expected to break out sparked by lightning strikes on bone-dry terrain, authorities said on Saturday… and more are expected." – New York Times
The fire season has been in full force for several weeks, now. Fire season is brought on by both seasonally (in some areas) and unseasonably dry weather with ignitable material. Currently, there are wildfires burning in several states in the West and Southwest. Some of the main states experiencing heavy wildfire activity are Arizona, California, Colorado, Idaho, Montana, Nevada, New Mexico, Utah, and Wyoming.
Interactive maps can give you a view of areas now suffering from the advent and spread of wildfires. One of the problems besides the hundreds of thousands of acres burning and the losses of life, property, and forests with wildlife is the smoke. The drifting squalls of smoke are carried eastward by the prevailing Westerly winds and everyone "downwind" from the fire's path is subjected to smoke inhalation.
Fires during fire season are not confined just to those high-risk Western states. Fires also break out from carelessness on the part of outdoor adventurers and enthusiasts who do not realize just how dry the ground and terrain is. So what if you are in one of the states listed previously, or what if a fire should break out in your locale?
7 Things Your Family Needs to Do To Be Wildfire Ready
Let's go over a few things that you can do to give you and your family a better chance.
Evacuate when necessary: This means clear out while you have the chance.  Sound advice. Discretion is the better part of valor. Typically, firemen give a home 10 minutes to evacuate. If they are warning you to leave, then heed the warning and grab what you can, and leave, plain and simple. You can replace your house and anything you may own in it.
Have a plan: Planning is key. Know where you're going to go, the route to get there, and take into consideration days of travel and impediments in the form of blocked roads, shifting weather conditions, and crowds of people.
Have all of your supplies ready to load up and to go: Your basics of bullets, beans, and band-aids…food, water, medical supplies, and the ability to defend all of it. Don't waste time when the order comes down:  be ready to load up and go. Here is an evacuation checklist of suggested items.
PACE: Acronym in the military for "Primary, Alternate, Emergency, Contingency." Have your Primary plan in place. Have an Alternate plan (with an alternate route, etc.,) in place, should something come along to disrupt the Primary plan. Emergency – this covers specific actions to take if something arises. For example, if one of your family members with a medical condition takes ill, are you going to hunker down and treat them for short-term treatment, or continue to roll, converting the travel trailer to a "field hospital" on wheels?  Contingency – to include "what if's" and things that may arise…scenarios you'll have to "game," and what you'll do to work through them.
Fire extinguishers and protective gear: Get a couple that are A-B-C rated, that will work on grease, oil, electrical fires, and wood fires. Pick up some fire suits to protect you if you have to be exposed to enable you to get through a blaze in your immediate area. Pick up burn cream and first-aid supplies such as silver sulfadiazine and some oxygen respirators. Many emergency first aid and fire supplies can be ordered online at amazon.com, to be delivered to your door.
A good radio with National Weather info – This will be worth its weight in gold when the time arises. You should have one anyway, but especially in fire season, as it will be updated to let you know where the areas of high risk are located, as well as possible shelters if you are on the move and need them.
Talk with your local firemen: No, really. These guys and gals will give you the "up and skinny" on what is going on for your area. They may even provide sagacious (that's "sage" in the vernacular) advice that you may not find anywhere else…info they're privy to outside of the channels of the regular public.
Information is your most valuable tool in this regard, however, keep this in mind: information itself is not the entire solution. Acting in a timely fashion and using the expertise of others at the right time is just as important as the information itself. Proper planning will increase your probability of success. The planning is in your hands. Use the Internet and your community resources to keep tabs on these wildfires so that you can take action in the event that they should threaten you and your community.  JJ out!
Additional Articles:
Creating a Family Preparedness Plan
Short-Term Emergency Checklist
Emergency Evacuation Checklist
5 Ways to Keep Your Vehicle Ready For Emergencies
Checklist for Preparing the Home Exterior For a Disaster
(Sign up for our FREE newsletter to get the latest prepping advice, gardening secrets, homesteading tips and more delivered straight to your inbox!)
Additional Resources:
The Prepper's Blueprint: The Step-By-Step Guide To Help You Through Any Disaster
The Prepper's Cookbook: 300 Recipes to Turn Your Emergency Food into Nutritious, Delicious, Life-Saving Meals
Prepper's Home Defense: Security Strategies to Protect Your Family by Any Means Necessary
The Survival Medicine Handbook: A Guide for When Help is Not on the Way
SAS Survival Handbook, Revised Edition: For Any Climate, in Any Situation
---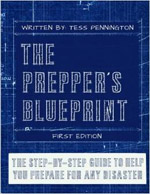 Tess Pennington is the author of The Prepper's Blueprint, a comprehensive guide that uses real-life scenarios to help you prepare for any disaster. Because a crisis rarely stops with a triggering event the aftermath can spiral, having the capacity to cripple our normal ways of life. The well-rounded, multi-layered approach outlined in the Blueprint helps you make sense of a wide array of preparedness concepts through easily digestible action items and supply lists.
Tess is also the author of the highly rated Prepper's Cookbook, which helps you to create a plan for stocking, organizing and maintaining a proper emergency food supply and includes over 300 recipes for nutritious, delicious, life-saving meals. 
Visit her website at ReadyNutrition.com for an extensive compilation of free information on preparedness, homesteading, and healthy living.