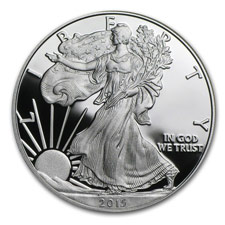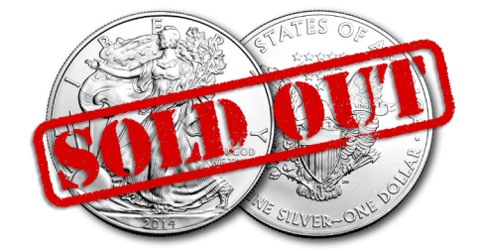 As Greece threatens to unravel the European Union experiment and China's stock markets crash into an abyss, investors around the world are reportedly divesting themselves of traditional stocks and looking for alternate investments to protect their wealth.
Bitcoin, the digital crypto-currency, has seen a significant rise in price since last week when it was reported that Greek citizens were using it as a store of value rather than keeping money in their personal bank accounts.
Precious metals, of course, are another popular alternative, though if you were looking to the price of silver today you'd think that demand for metals is collapsing.
Nothing could be farther from the truth. Earlier today Future Money Trends sent an alert to subscribers of their Weekly Wealth Digest suggesting that not only is demand for precious metals rising, but an inside source has revealed that the U.S. Mint can't keep up and the suspension of sales of Silver American Eagles, the Mint's most popular coin, is imminent.
This is unconfirmed officially, but I just received an email from a very credible source stating that the U.S. Mint is going to suspend Silver Eagle sales imminently!

This is an unprecedented move this early in the year. With the crisis in Europe, the demand for physical silver is exploding.

According to the U.S. Mint, 2 million ounces sold in May, 4.8 million in June, and in the first week of July, it is already nearing 2 million ounces!

Supply is tight, with mine production down for the top silver producers, as well as a reduction in supply from smaller miners who are going bankrupt.
It seems counter-intuitive that the price of silver dropped 5% over the last 24 hours with physical demand so high, but as we've noted previously, the entire paper market game has been rigged by some of the world's leading financial institutions and central banks.
The price suppression scheme is in full effect and today's move was likely caused by a seller attempting to off-load $1 billion in non-existent paper denominated assets.
While mainstream media suggests it's time to sell all your gold and silver assets to take advantage of record stock market highs, we'll suggest to our readers that this may be yet another opportunity to invest in precious metals at affordable prices before the bottom falls out of the global economy and financial markets.
Last week President Obama promised Americans that the problems in Greece, Puerto Rico and China will not cause a global financial crisis.
President Barack Obama downplayed the threat that Greece's debt crisis poses to the American economy, saying that the Hellenic Republic's problems would create more woes for the European continent than the United States.

"In layman's terms, for the American people, this is not something we believe will have a major shock to the system…"

Via: SGT Report
That is in and of itself the only warning you need.
The global financial crisis is actually in progress right here and now, and despite what we're being told by the puppets in mainstream media it is not contained.
Prepare yourselves accordingly.