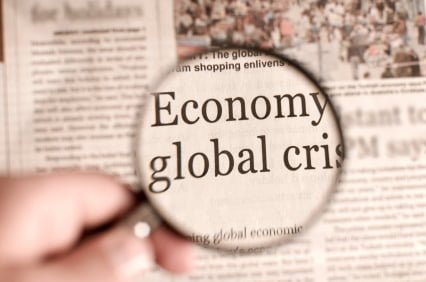 The next great financial crisis may be only a short time away.
As readers know, SHTF has routinely covered the bleak warnings and predictions of market insiders and critics of Wall Street and the Federal Reserve.
Now, there is yet another indication that things are reaching a tipping point, and the system is all-too-vulnerable to collapse. Borrowers in states across the globe are under threat of default, and many would be unable to repay loans with even a modest adjustment in the interest rate.
There is so much debt piled up all over the place, that things are absolutely in danger of coming unglued. The IMF is now hovering over the situation, warning of impending crisis.
According to the London Telegraph:
A poisonous "triad" of global risks is pushing the world to the brink of a new financial crisis, says stark IMF report

Governments and central banks risk tipping the world into a fresh financial crisis, the International Monetary Fund has warned, as it called time on a corporate debt binge in the developing world.

Emerging market companies have "over-borrowed" by $3 trillion in the last decade, reflecting a quadrupling of private sector debt between 2004 and 2014, found the IMF's Global Financial Stability Report.

This dangerous over-leveraging now threatens to unleash a wave of defaults that will imperil an already weak global economy, said stark findings from the IMF's twice yearly report.
Things are apparently teetering dangerously over the edge, with plenty of room to trigger further chaos in the developing world:
The slightest miscalculation, they said, could collapse into a "failed normalisation" of interest rates and market conditions, wiping 3pc from the world's economic output over the next two years.
And there is plenty of crushing debt here at home in the developed world, too.
Seven years after the financial crisis, a combination of lingering debt burdens in advanced economies, and vanishing market liquidity could result in a new credit crunch when conditions tighten.

[…]

The world's major central banks should ensure policy remains "accommodative" for fear of setting off a new wave of instability …
The IMF again urged the Federal Reserve against raising interest rates, even as they prove dangerously ineffective at repairing the economy:
The report called on the Federal Reserve to hold off on its first interest rate hike in nine years …
Only a few weeks ago, the World Bank warned the Fed not to raise interest rates, cautioning that the "Fed risks triggering panic and turmoil" in the market if it dares to step up from zero percent and perhaps the biggest monetary intervention in history.
Read more:
The End Game Has Arrived: 'All Signs and Evidence Point to the Great Global Economic Reset'
China Nears Global Reserve Status: "There Will Be a Reset of the Financial Industry"
"Fed Risks Triggering Panic and Turmoil": World Bank Warns Against Raising Rates