This article was contributed by Tom Beck for Portfolio Wealth Global.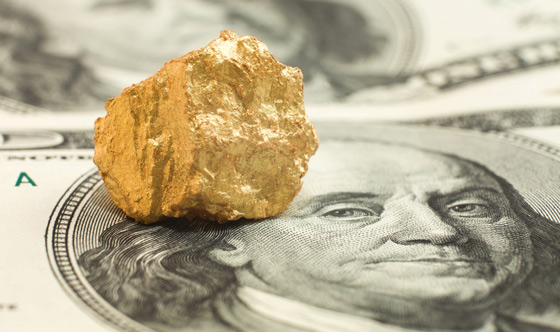 It Looks Like Powell and Trump are Burying the Hatchet!
Ray Dalio is ABSOLUTELY RIGHT, but he ought to make sure to put his predictions INTO PERSPECTIVE. When Mr. Dalio said that "cash is trash" in Davos right before the COVID-19 panic, he didn't mean that cash is to be avoided right away. His true intention was to say that as of 2020, the world is TRANSITIONING into a new age of quantitative easing and you need to understand it IMMEDIATELY!
As you can see below, new cases of reported COVID-19 cases ARE PLUMMETING around the world. There are likely around 100 million infected individuals, about 90 times the reported amount, and THAT'S GOOD.
We're undergoing what's known as "herd immunity." Our body, in its INFINITE INTELLIGENCE having survived tens of thousands of years of ice ages, famines, droughts, and times when chasing calories was the ONLY WORRY of the average person, has a robust immune system and can FIGHT disease.
That isn't the case with ALL INDIVIDUALS. Most people are suffering from overweight, a lack of sleep, too much stress, other diseases like diabetes, high blood pressure, and a multitude of Western illnesses, simply by mistreating their physical bodies for decades.
Maintaining a healthy lifestyle of proper sleeping, breathing, drinking, eating, being outdoors, and moving (exercising) isn't the regiment most people follow.
Therefore, we're seeing COVID-19 mostly INFLICT DAMAGE to weaker immune systems.
We can all learn from this that we need to handle ourselves with respect, NOT SUCCUMB to the lust of tastes.
This virus shall pass, and when it does, governments and central banks have revealed their METHODS OF OPERATION to us.
We will begin RESUMING NORMALCY soon. I expect the U.S. to be RELAXING MEASURES by the end of April in most of the 50 states, and other countries will do the same thing.
At first, most will be cautious and will not want to spend more than they should (individuals and businesses), but the government and the stimulus from it will act AS A CATALYST to this process and SPEED-UP the recovery.
Hotel chains, casino operators, cruise ship lines, travel agencies, and other leisure providers will cut prices and offer flexible terms to entice the pioneers that will return first.
Slowly but SURELY, everyone will RETURN TO LIVING a full and vibrant existence, spending money and looking for ways to entertain themselves, educate themselves, and purchase products and services.
Human nature hasn't changed; we all CREATE ways of ACHIEVING growth and development in our minds, but our habits may be altered in HOW to get there.
The genie is out of the bottle IN TERMS of spending, and this time IT IS DIFFERENT!
Interest rates are zero around the globe AND that's not going to change WHATSOEVER because most countries can't fund their budgets using ORGANIC LENDING.
What I mean by that is that sovereign wealth funds, pension funds, and large asset managers AREN'T INTERESTED in lending governments money anymore.
The APPETITE is gone.
Taking the place of these lenders are the central banks themselves. This is called quantitative easing, and thus far it hasn't caused INFLATIONARY PRESSURE in most developed countries.
The reason is that many assumed it WAS AN EXPERIMENT and that it will end soon.
The jig is up, though: everyone now knows that DEFICITS WILL ONLY INCREASE and that central banks will fund these by increasing the money supply no matter what tax revenues happen to be.
Therefore, as you can see below, DEFICITS ARE MOUNTING:
In other words, now EVERYONE is on the INSIDE OF THIS JOKE.
All governments know now that their colleagues are debasing and they will OPENLY do the same.
Citizens will catch up to this, but not until it is WAY TOO LATE.
So Dalio is right: we are entering a 10-year period where COMPARED TO REAL ASSETS, currencies will fall by 30%-50%, and YOU have first dibs on this since you've STUDIED THE MATTER.
Instead of trying to convince your brainwashed friends, WORK to increase your net worth in your main career so that you can invest and COMPOUND at a fast rate!