This article was contributed by Tom Beck of Portfolio Wealth Global. 
There's a clear agenda IN PLACE. The Democrat-led states are taking A HARD LINE against Covid-19, while the Republican ones are adamant about re-opening.
I don't care how many financial promises media talking-heads and mid-level corrupt politicians are getting, it is CRIMINAL to continue scaring the public about this disease and to suppress the results of READILY-AVAILABLE medicine in treating it.
Trump succeeded in bringing the middle class back to life since November 2016. During his time in office, millions of people went off food stamps, rejoined the middle class and unemployment was at a record low.
Covid-19 presents a leadership challenge to his administration since it involves healthcare. The economy takes a back seat to that and that is not something Trump is personally accustomed to – his lack of flexibility in reading the pulse of the nation could cost him the election.
Trump just can't let the financial aspect of it go, though, so he is losing MUCH NEEDED CREDIBILITY. America might be headed towards a Biden victory, even though it's pretty clear he is not 100% mentally capable.
Shutting down schools, restaurants, bars, beaches, gyms, sporting events, leisure hotels, casinos, shopping malls and restricting travel is NOT NECESSARY at all.
If there's the potential for a shortage in life-saving medical equipment, produce more of it, but don't demand communities put their LIVES ON HOLD. Quarantines and business closures cost WAY MORE than funding new hospitals and medical equipment production.
Check this out – the market ISN'T BUYING this purposeful tactic (deployed by globalists in order to regain control) to WEAKEN REAL AMERICA. Investors are returning to the recovery trade.
After many years of bearish sentiment, commodities are back!
This is due to the fact that investors have calculated the dangers of this 2nd wave and just don't think much of it.
In recent years, technology has been carrying the entire market on its back. It still does, but this might be peaking soon.
Take a look:
How can two POLARIZING RESPONSES emerge from the same pandemic?
One half of the country wants nothing closed, while the other is willing to sacrifice its livelihood, rights, and freedom to move about in order to potentially avoid a healthcare overflow.
The answer is a LEADERSHIP VACUUM.
This country is searching for direction.
What Portfolio Wealth Global is anticipating is that there will be a petty back-and-forth between the parties at least until the end of August, when the next round of stimulus is to be introduced.
The Democrats understand that it isn't really the stock market that gets the average voter excited about the Trump administration, but the fact that the REAL ECONOMY was strong in 2018 and 2019.
Right now, low-income workers are suffering. They've shouldered the burden more than executive-level employees.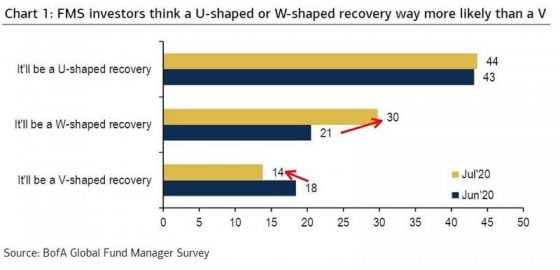 The "V" theory is largely a CONTRARIAN wishful thinking opinion, held by very few.
Whoever wins the upcoming election has a rough task to accomplish:
Unite and bring together the country to get over the hump and START FRESH.
Deal with China.
Deal with the deficit.
Deal with taxes, inequality, and financial gaps.
Racism.
Covid-19.
This is why I own gold; no human being can solve these challenges without MESSING UP.
Gold is the antibody, the drug, the cure and the vaccine; it is the SOLUTION!