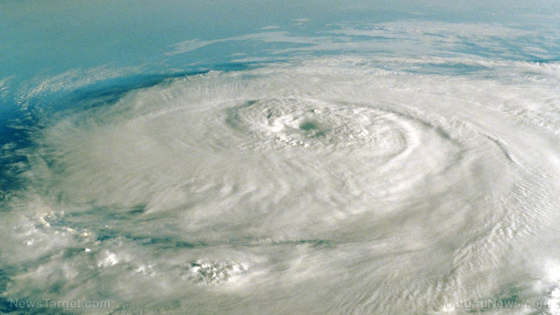 With hurricane season in full swing as many brace for tropical storm Dorian's arrival, most don't want to be left in a bad situation waiting on help from the government that may not ever come. If you live in a hurricane zone, you may want to consider boosting your preps for one if you haven't already.
The most important thing to remember is to hide from the wind but run from the water.  Don't get caught in flooding and if it looks like that's a possibility, grab your bag and bug out. Water weighs about 1,700 pounds per cubic yard. As it's pushed by hurricane winds, it can act as a battering ram, pummeling the shore and buildings.
If you do evacuate, make sure you've got a place to go. Camping gear may make it easier to avoid FEMA shelters and keep some of your privacy. Make sure you've got a first aid kit and food in your bug out bag, along with some life straws. Water contamination could be a big problem and a life straw will remove a minimum of 99.9999% of waterborne bacteria, 99.9% of waterborne protozoan parasites, and filters to 0.2 microns; which surpasses EPA filter standards.
Make sure you have your bug out bag ready and be able to get to it in a hurry.  Hurricanes can change suddenly and without warning and you may have little time to decide to leave your home. Having it accessible and ready to go in seconds could make a big difference.
Before a hurricane comes, you will want to secure outdoor furniture and cover all of your windows with plywood. This lessens the chances of damage being done.  Broken windows can cause water damage, and winds can toss any debris into one.  By securing furniture, or putting it inside a garage, you can mitigate some of the chance your possessions will damage your property or someone else's when the winds pick up.
Pick a room in your house as a "safe room."  If you don't have time to evacuate or bug out, you'll at least have a better chance if you're in a basement room with no windows. This rooms should house some food and water as well as flashlights.  If you've chosen well, and there are no windows, you may need the flashlights to see. Hurricanes often cause power outages and you may not have much if any light. If you're trapped in that room, you'll want something to eat and drink.  There's no right amount of food and water, just store what you're comfortable with based on the size of your family.  Anything more than 3-days worth of food and water will be better than nothing.
If you think it's necessary, also consider making or grabbing a toilet to use in your safe room.
All of these preparations should be made in advance of a hurricane or a tropical storm.  As Tess Pennington says in her book, The Prepper's Blueprint:  If we have learned one thing studying the history of disasters, it is this: those who are prepared have a better chance at survival than those who are not.