This article was originally published by Daisy Luther at The Organic Prepper
Selco interviewed by Daisy Luther
I was recently emailing back and forth with Selco and we were discussing the situation in the US right now, with the political polarization, the rage, and the general cognitive dissonance. I asked him if he saw any similarities between our situation and the one in Bosnia when the SHTF there during the war. When he replied I knew I had to share this information with you.
While we might like to think it could never happen here, the current events here are eerily similar to what happened there in the 1990s.
When you read this, think about recent events. The anger about immigration. The destruction of Civil War monuments. The unease between the races. The deep rage about the recent presidential election. The scorn and derision for neighbors who think differently. The way the media fans the flames of dissent between our fellow Americans.
You'll realize that it definitely CAN happen to us…and there's not one darn thing we can do except to be prepared.
What parallels do you see with events in the US and Bosnia before the SHTF?
US and Yugoslavia (in 1990) on first look do not have anything in common because people are going to say, "The USA cannot have anything similar to any socialistic system."
This is true but only on first look.
Yugoslavia had somewhere around 20-22 million citizens, six republics (similar to states in the US), 3-4 main religions, and many national groups (ethnicity).
The official state policy was to build Yugoslavian "nationality" (from the end of WW1) and through different ways that effort was successful until the 90s.
We were "something big, united through differences with a strong connection to make something big."
And then those differences were used to make chaos.
In the late 80s and beginning of the 90s (when democracy came) the problems started and ended up in series of wars and cases of complete collapse.
Things that I experienced in my case prior to SHTF, and things that you might recognize:
Things that make differences between people are more and more problematic (race, religion, political opinion).
Polarization is getting obviously stronger.
People want to come to your country, but they do not want to "assimilate" or contribute to greater good. They want to preserve their way of life which is often absolutely contradictory to the way that your country (society) works.
The political way of solving those problems often fails, because, in essence, those problems are hard to solve in a democratic way (in the spirit of democracy).
Your freedoms are "shrinking" as a result of that.
Calls for "radical solutions" for the problems are stronger and stronger.
The media is absolutely working a dirty job, and it is hard to find out what is the truth anymore.
Suddenly people and events from history are "brought back" so people can judge and argue about it, to write history again, to build myths sometimes.
Can you explain how the current political polarization could make matters worse when the SHTF?
Strong polarization eventually brings fear and hate towards "others", and once you get into that state of hate and fear it is very easy to be manipulated, even though prior or later, it looks weird and funny how easily you were brought into that state.
I remember the exact moment roughly 25 years ago when I was brought in discussion and actually rioting over the statue of a general from WW2 which was about to be destroyed because for some people he was a war criminal and for others he was a hero and important political figure.
It was a big event, and people were brought into that event in big numbers, arguing and fist fighting and rioting…
At the same time, the wheels of big events were actually already starting to move, and if I were smart I would have left the country or bought a weapon instead fighting over a historical figure.
Does this sound familiar?
It was only one event that was used in order to polarize people more. "Us" and "Them".
It is so easy to manipulate people when you throw hate and fear in the game.
Polarization makes things worse when SHTF because it is easier to "dehumanize" others that are different than you. Through the fear and hate, groups are pushed to do whatever the people in power want them to do, even if that means horrible crimes. Remember, once some group of people (religion, political, regional, race…) is dehumanized (for example through smart media work) the rules are changing and everything is possible.
For example, with careful media work even today (in time of the internet, social networks, and independent information) it is possible to make the prepper movement look like a terroristic and anarchistic movement and then it's open season on preppers.
Did political disagreements go away when it hit the fan or did they intensify?
In essence yes, they went away because it all went to how much food, ammo, or whatever resource you had. You realized that big opinions simply do not matter, especially once when you realize that all was somehow planned, and especially once when you realize how foolish you were because you trusted some things.
But of course rage was fed with again fear and hate for "others".
It is like that story about how they tried to explain to a conscript [someone who was drafted into the military] what is war all about: higher causes and honor and everything else, and he simply could not get it. Then later in the middle of a fight he suddenly understands everything and yells: "Oh I understand now – THEY ARE TRYING TO KILL ME."
When you strip everything down to the bare facts, he was right.
How does it move from political arguments to one day, it has all hit the fan and everything has changed? Is there something predictable we could look for?
Again it is about dehumanizing, no matter who or what group. It is about adopting opinions like "they are so different that they do not deserve…( to live here, to have rights…)
Once that happens a whole new set of rules jumps in and those rules mean that lot of your liberties and rights gonna be taken too, and that is the problem actually.
When that happens, you will understand that it is not really important who is who. The only thing important is that somehow you do not have your rights anymore (for example the right to carry a firearm) and then you are in s..t.
You can be so mesmerized with "important political events" or something else that you might even not notice that you are suddenly not allowed to grow your own food or have a solar panel on the roof, or carry a pistol.
You might say now "it is impossible in the US"  but I think in this moment it is bigger news than if some reality show star had "spicy" video than to understand how food delivery in your city works and how much food is in one average store if everything stops moving.
Yes, it is possible.
Which events in the US have you seen that made you immediately flash back to your situation?
I do not follow politics too deeply even in my country, not to mention politics in the US, but what I do follow is people's reaction to political events. By that, you can sense where the majority of people's opinions go and what you can expect from that.
Maybe a year ago I did comment (through an article) on some events in the US and I got an excellent comment from one of my readers who said "My nation, America, is being abruptly dragged out of a deep and prolonged state of subconscious anxiety and depression. It is being assaulted with hope and this is beginning to produce a state of relief which will be managed into uncritical nationalism if at all possible. This euphoric state of national mind is the perfect cover from which to ambush a nation. The pressing for a one world government did not die under Trump, it simply got a new face. The danger to America and to the other nations of the world is more real now than ever. Extreme sobriety is warranted at this time. Most people I have spoken with cannot see this…"
Hope in something new and something better was exactly what I was experiencing just prior SHTF, new leaders, new democracy, freedom…
It clouded my perception, I trusted too much.
What suggestions, if any, do you have to help us be better prepared for political upheaval?
As always, operate in "small circles" (your family, prepper group, network of friends). Learn useful skills, meet good and interesting people (in prepper terms).
That small circle is what it is all about and what is important when SHTF. Sorry, but your political opinion and worries about state policies are worthless, and can not change anything big- it is the big circle, and it is important only in terms of looking and recognizing signs of future events, so you may recognize the correct moment for bugging out for example.
Do not be pulled into general fear and hate because it clouds your judgment and it simply wastes your time.
Do not be pulled into it.
Do people start to realize that their opinion means nothing in politics or do they still hang on to their illusions even after it all goes sideways?
Illusions were the first victims when SHTF. Here are a few of many:
"There are police, this cannot happen. There is law, this is against the law." Actually, the police are police when the system works. When it does not work, the police are just a bunch of trained people with weapons, and it is completely up to them what they are going to do.
"I have rights." Yes, when there is a system and law to protect those rights. If you want to have rights when SHTF you have to be ready to protect them.
"I have gun and lot of ammo. I will firmly stand my ground." Good luck with that. There is a huge number of people already organized in violent groups, ready and skilled in violence, who wait for the system to collapse to jump in. People with more guns, more ammo, more skills than you, and less morals and ethics. You need to lower your expectations.
"This kind of chaos can not happen here (in the US). We have the best political system in the world." This is my favorite actually because in my case the S. did hit the fan. For some period of time I was repeating this to myself, and even more, something like "This can happen only in some country in Africa, not here. Somebody going to stop this." It can happen, and actually, it would be very bad because fall is going to be bigger. It is going to hurt much more, and people are going to be shocked much more.
Anything else to add?
I have seen many people killed, a lot of women and children too, civilians. A huge number of people suffered, were hungry and cold and were terrified through that period.
But I can count on one hand the dead or hungry politicians in that time.
Things were good for them through that period. Some of them ended up even richer. A lot of them are still powerful in the same or different parties, and are still talking about "their people" or " causes" or "fear from others".
It is the way it works.
More from Selco 
More information about Selco
Selco survived the Balkan war of the 90s in a city under siege, without electricity, running water, or food distribution.
In his online works, he gives an inside view of the reality of survival under the harshest conditions. He reviews what works and what doesn't, tells you the hard lessons he learned, and shares how he prepares today.
He never stopped learning about survival and preparedness since the war. Regardless what happens, chances are you will never experience extreme situations like Selco did. But you have the chance to learn from him and how he faced death for months.
Real survival is not romantic or idealistic. It is brutal, hard and unfair. Let Selco take you into that world.
Read more of Selco's articles here: https://shtfschool.com/blog/
And take advantage of a deep and profound insight into his knowledge and advice by signing up for the outstanding and unrivaled online course. More details here: https://shtfschool.com/survival-boot-camp/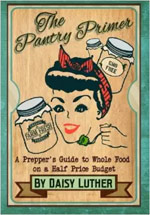 Please feel free to share any information from this article in part or in full, giving credit to the author and including a link to The Organic Prepper and the following bio.
Daisy Luther is the author of The Pantry Primer: A Prepper's Guide To Whole Food on a Half Price Budget.  Her website, The Organic Prepper, offers information on healthy prepping, including premium nutritional choices, general wellness and non-tech solutions. You can follow Daisy on Facebook and Twitter, and you can email her at [email protected]