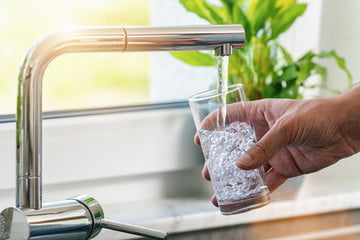 A new database can give you an idea of whether or not your tap water is safe.  But even if your water gets a passing grade, it may be worth your time and money to filter it anyway.
If you've ever wondered how safe your tap water really is, you can now find out. The Environmental Working Group (EWG) released its updated Tap Water Database on Wednesday, which allows people to discover which contaminants are in their local tap water and how it may affect their health.
In the database, people can search by ZIP code or state to find their local utility, then can click on the individual contaminants detected in their water to find out more about them and their health risks.
The Tap Water Database contains data from nearly 50,000 local utilities in 50 states and features water quality tests conducted by water systems from 2012 to 2017. Also included are a total of nearly 32 million test results for 525 chemicals — 284 of which were detected in U.S. drinking water, according to the EWG.
"People take clean water for granted," Tasha Stoiber, Ph.D., a senior scientist at the EWG, tells Yahoo Lifestyle. "Most of the systems in the U.S. do pass federal drinking water standards, but that doesn't mean it's entirely safe, especially for more susceptible groups, which could include pregnant women, children or those with compromised health states. Even low levels of contamination could cause harm to your health. Water quality could be much better."
Having good quality drinking water is essential. What you put in your body matters and so many people don't know just how poor of quality their drinking water is.  So many municipalities add fluoride to your drinking water even though the evidence that it's bad for you continues to pile up. 
Fluoride is also among a group of contaminants that is difficult to remove. Most water filters do not remove fluoride. In fact, most water filters, especially the name brand water pitchers, only remove a handful of contaminants. But the good news is that you CAN filter out most of the contaminates and the fluoride that municipalities add to your drinking water. For under $20, you can purchase a decent filter that will help at least somewhat. If you have a little more wiggle room in your budget, you could go ahead and invest in a permanent under sink filter set up to remove as many contaminants as possible.
A reverse osmosis (RO) and carbon water filter system is the best to remove fluoride. A carbon filter alone won't get all of the fluoride out, however, if you also have a RO system, your water will be even less toxic.
Consider taking the cleanliness of your water into your own hands.  If you need to, test your water so you know exactly what you're up against.  Then research the right filter for your situation. Make sure you check the database too.  It'll give you a starting point for your research into the contaminates listed in your water.
Click here to go to the Environmental Working Group's Tap Water Database.
*This article contains affiliate links.