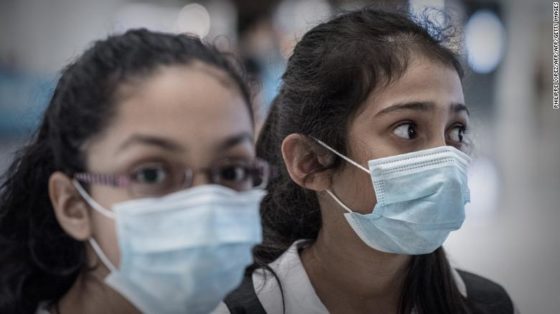 The mayor of Houston is demanding that the police use unjust force and extortion to punish those in the city who refuse to comply with the commands to wear a face mask. Fines will be $250 for those who will not comply with a warning.
"For months, we have been focusing on education and not citations, but now I am instructing the Houston Police Department to issue the necessary warnings and citations to anyone not wearing a mask in public if they do not meet the criteria for an exemption," Houston Mayor Sylvester Turner said Monday at a press briefing.
The citation comes with a $250 fine. Lives are at stake, so I am taking this step to save lives and slow the virus from spreading in the month of August.

— Houston Mayor's Office (@houmayor) August 3, 2020
Safety is every tyrant's battle cry. Stay strong, folks, especially if you won't wear their occultic muzzle.  Luckily, the majority of the public can see through this now.
Hitler, Pol Pot,and Mao would be proud of you. But you will fail. You will stoke civil unrest

— #freeAssange (@bitcoincyclist) August 4, 2020
Finally, it seems like at least some people are standing up. The real way to keep this from happening is for cops to wake up to what they are doing to the public all on orders from tyrants and for the public to simply refuse to comply and pay the fine if they get one.
Turner, who has been Houston's mayor since 2015, announced the crackdown on those refusing to wear a mask after the city reported its fifth straight day with more than 1,000 new coronavirus cases.  According to a report by RT, police won't respond to calls from residents reporting people violating the mask mandate, Turner said. Instead, they will issue citations when they encounter people on their regular patrols who aren't wearing a mask in public and refuse to do so when given a warning.
Turner also demanded that people not be mad at his hired enforcers who are blindly following these orders to subjugate their fellow human beings. "Please don't get mad at police officers," Turner said. "It's all about public health and driving our numbers down." 
The mayor said it's particularly important to reduce the spread of Covid-19 heading into schools reopening next month and the approaching flu season.  Obviously, that's NOT what this is about. It's about control and keeping the public in line. We know this because they continue to move the goalposts.
They Moved The Goalposts…AGAIN!: "It's Not Over When The Vaccine Arrives"