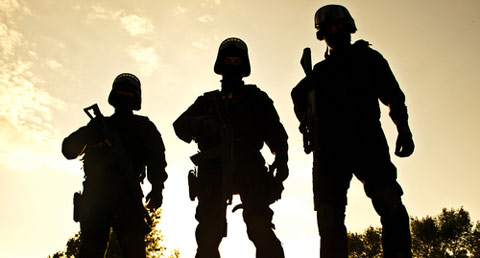 The report has been contributed by Ken Jorgustin of Modern Survival Blog
During the Iraq and Afghanistan Wars, the U.S. Army built 28,000 MRAPs (Mine-Resistant Ambush-Protected Trucks). Now the U.S. Army has announced that it is giving 13,000 of them away, for free. Who's receiving the trucks? Homeland Security and U.S. Law Enforcement.
Instead of mothballing these MRAPs, Homeland Security is evidently pre-staging a domestic army of militarized agencies, police and law enforcement.
While Police and agencies say that all this military equipment from DHS grants will only be used against crime, the trust in many American alphabet agencies has been broken – now that we know some of the extent at which they are using technology to monitor and probe its own citizenry. DHS and many others, they're stockpiling.
What we have here is a paranoid government, and one which is apparently and evidently ramping up for something…
The U.S. Army is giving away 13,000 armored trucks, worth about $500,000 each.

The 20-ton MRAPs, or Mine-Resistant Ambush-Protected trucks, were built specifically to save U.S. soldiers from roadside bombs in the Iraq and Afghanistan wars.

Now the trucks are patrolling U.S. city streets. U.S. law enforcement agencies have received the lion's share of this high-powered military surplus.
Recently, retired Marine Colonel Pete Martino spoke plainly during a Concord (NH) city council public hearing over the cities intent to procure a armored attack truck (the manufacturer's description, although the police prefer "rescue vehicle").
He said:
What's happening here is we're building a domestic military, because its unlawful or unconstitutional to use American troops on American soil.
My best friend who's a SWAT officer in Nashua (NH) who came to Iraq with me to train the Iraqi police, sent me an email with a picture of him on the streets of Watertown Mass (Massachusetts) wearing the exact same combat gear that we had in Iraq – only it was a different color.
The way we do things in the military, it's called task organization. You take a command and then you attach units to it in order to accomplish the mission.
What's happening is Homeland Security is pre-staging their equipment – it's consistent. What they're trying to do is use standardized vehicles, standardized equipment.
I saw a picture in the Boston Globe after the Marathon bombing where there was a state police officer – actually there were two officers – both had identical helmets, flak jackets, weapons, everything I wore in Iraq – only it was all blue.
The officer on one side had a big patch on his back that said Massachusetts State Police. Another officer next to him, his patch said Boston Police.
So what we're doing here, and let's not kid ourselves about it, we're building a domestic army and we're shrinking the military because the government is afraid of its own citizens.
The last time more than 10 terrorists were in the same place at one time was September 11, and all these vehicles in the world wouldn't have prevented it, and it wouldn't have helped anybody. So I don't know where we're going to use this many vehicles and this many troops. Concord is just one little cog in the wheel.
We're building an army over here and I can't believe people aren't seeing it. Is everybody blind?
"Peter Martino is a citizen of the State of New Hampshire. Mr. Martino is a Colonel in the U.S. Marine Corps Reserve who has been mobilized three times. During his military career, he commanded an infantry platoon, company, and battalion. He was also the senior U.S. adviser to an Iraqi Army brigade. Mr. Martino has had a successful civilian career providing training, consulting, and program management services to private companies and to state and federal agency contractors. Mr. Martino presently holds a top secret security clearance."
We now have desensitization – desensitizing the people getting used to seeing military hardware on local roadways.
DHS procuring-reserving nearly 2-billion rounds of ammo.
Check points to travel within our own country.
Paramilitary civilian police forces.
Mass surveillance of all citizens.
Political elite above the law.
Intimidation of press.
Something's afoot…
"We cannot continue to rely only on our military in order to achieve the national security objectives that we've set. We've got to have a civilian national security force that's just as powerful, just as strong, just as well-funded."

-Barack Obama
WAKE UP PEOPLE…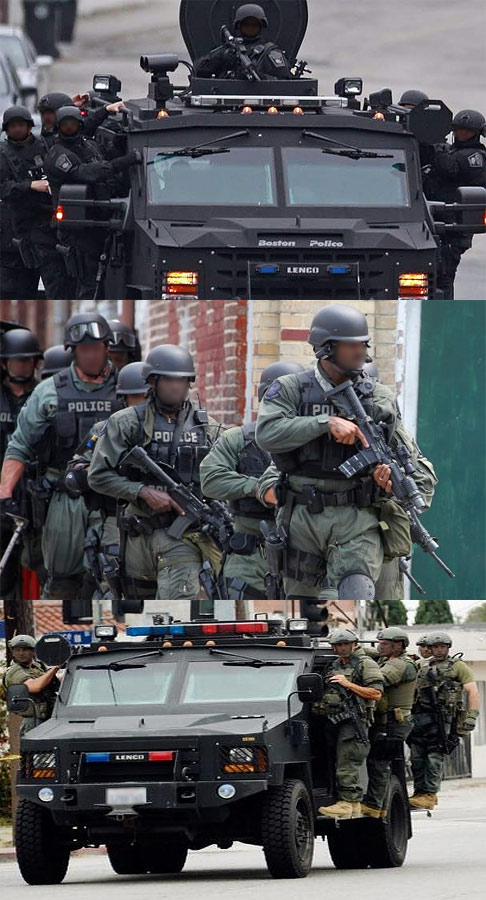 The report has been contributed by Ken Jorgustin of Modern Survival Blog