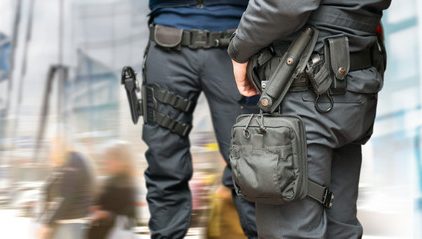 Is the hypocrisy lost on anyone?  Hollywood's elitists have decided to boost their security during the Golden Globes with armed guards.  Normally, there'd be nothing wrong with this, however, celebrities are anti-gun when it comes to the rest of us defending ourselves from maniacs.
According to a  New York Daily News report, Beverly Hill Police Department Captain Michael Hill said, "We have a robust security plan that includes assistance from our local, state, and federal law enforcement partners. Additionally, we will be using the most contemporary technologies in an attempt to ensure the ceremony is held without incident."
So, essentially, those who pander to the government and insist the rest of us disarm will be surrounded by people with guns so they can feel safer.  Gun control is for the peasants, not the wealthy elitists, apparently. If you have the money to hire a bodyguard to carry a gun and protect you, that's fine.  Just don't try to protect yourself, slaves.
The 2016 Golden Globes featured security personnel wearing tactical gear and carrying handguns and AR-15s with "high capacity" magazines, weapons that looked very similar to civilian guns so many Hollywood actors and actresses want to ban law-abiding citizens from owning, according to a report by Breitbart. 
Throughout 2019, Hollywood celebrities have reacted to criminal use of firearms by calling for more gun controls across the board. For example, following the July 28, Garlic Festival attack in Gilroy, California, actors John Leguizamo, Billy Baldwin, and Bradley Whitford all voiced gun control rhetoric.

Following a November 14, 2019, shooting at Saugus High School, in San Clarita, California, actress Debra Messing tweeted for gun control and made sure to include a shout-out to Michael Bloomberg-funded Moms Demand Action. –Breitbart
Not AGAIN. OMG. I am praying for all the people physically hurt and spiritually traumatized by the #SantaClarita school shooting. This MUST STOP. We must protect our children. @MomsDemand

— Debra Messing✍? (@DebraMessing) November 14, 2019
None of the celebrities noted that California already has every gun control the Democrats are pushing at the federal level and failed to mention that the Garlic Festival and Saugus High School were both gun-free zones.
Self-Defense Is A Basic Human Right: A Website That ENDS The Gun Control Debate For Good