This article was contributed by Tom Beck of Portfolio Wealth Global.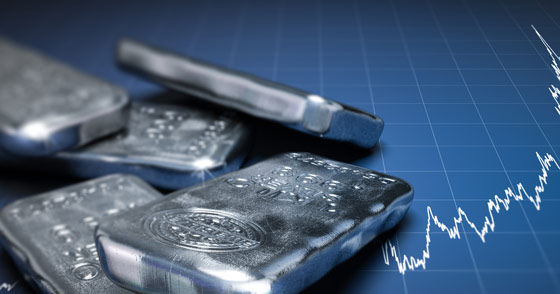 In our opinion, a Joe Biden victory is actually what will take GOLD over $2,184/ounce, our BULL MARKET target for the metal, but a Donald Trump win is what will propel silver to CENTER STAGE. Biden will BRING BACK the middle-class preppers to buying precious metals since their confidence level WILL DROP.
Trump's agenda is to DECOUPLE with globalization and to make American industrial capacity more independent. His economic policy inspired much confidence and in his tenure, before Covid-19 hit, precious metals sales in America ALMOST DISAPPEARED.
His plan also requires a weaker dollar, and we will GET ONE, one way or another.
COVID-19 made people FLOCK TO DOLLARS, but that was an anomaly, not the trend.
As you can see, now that NEW YORKERS, some of which are prominent Wall Street hedge fund managers, understand that COVID-19 is NOT A LETHAL PANDEMIC but a mere case of a flu-like novel virus and they UNDERSTAND the risk of a recession is DIMINISHING, are resuming normal market activity.
Similar to 2009, they are lowering cash balances, getting back in the game, and SHOWING TRUE COLORS by betting on a recovery.
Most of them are CONVINCED it will be a long one (a "U" or a "W"), but we believe THEY UNDERESTIMATE just how much red tape Trump's administration has cut through in the past four years. The recovery will be FAST AND STRONG.
No matter who wins, but especially if Donald Trump does, there will be an IMMEDIATE OUTCRY that the election was rigged.
I cannot tell you just HOW HATED he is in the circles of the Deep State, which have run this country behind the scenes since the rise of the MILITARY INDUSTRIAL COMPLEX.
When Hillary lost in 2016, it shocked the elites so badly that they have THROWN EVERYTHING at him, but he hasn't folded.
It is almost a miracle that no attempts have been made on his life.
If he wins a second term, China will realize that the American public is supportive of his anti-globalization agenda and they will have to MILITARIZE QUICKLY.
We believe a Trump victory, therefore, will lead to high silver prices.
Either way, it is our analysis that the election will be a PIVOTAL MOMENT for this nation.
We are working on a MASSIVE-SCALED report on both candidates that has never been published before.
We intend to PULL THE CURTAIN!
EXCLUSIVE REPORTS, Featured In This Article and in Others, Which Are Considered ESSENTIAL READING: