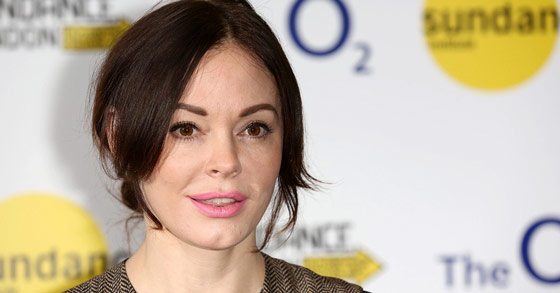 Members of the Hollywood elite have been hammered in recent weeks over sexual abuse claims launched by both, males and females in the industry. It all started when actress Rose McGowan claimed that she was sexually harassed by movie producer and political power broker Harvey Weinstein.
Now, it appears that the elite have had enough and may be sending a message to those who may have information that could expose their sexually abusive transgressions. According to reports, a suitcase belonging to Rose McGowan was found to have tiny traces of narcotics. After further inspection Washington Dulles International Airport officials reportedly determined that there were drugs in the bag, prompting police to issue an arrest warrant:
Police launched an investigation after they allegedly found traces of narcotics in personal belongings left behind on a United flight arriving at the Washington Dulles International Airport on Jan. 20, the AP reports.

A spokesman for the Metropolitan Washington Airports Authority Police Department, Rob Yingling, told Deadline investigators believe the personal belongings were McGowan's.

"Our police have attempted to contact Ms. McGowan so that she can appear in a Loudoun County Virginia court to respond to the charge," Yingling said.

(Yahoo)
In a response to the warrant McGowan took to twitter:
"Are they trying to silence me? There is a warrant out for my arrest in Virginia. What a load of HORSESHIT."
— rose mcgowan (@rosemcgowan) October 30, 2017
One can't help but consider the real possibility that the pedophiles and abusers in Hollywood are starting to fight back through whatever means necessary.
Curiously, the incident took place at Washington Dulles airport, a hotbed of sexual abuse and corruption to which big money players in Hollywood have direct connections.
Actor Corey Feldman recently claimed that he is prepared to name names, but says his life is under threat do to the enormity of the scandal.