About six months ago the Obama administration and a host of other concerned politicians were blasting mainstream airwaves with the view that lax US gun laws made it simple for Mexican drug cartels to obtain US made weapons, which were then used to commit crimes against Mexicans and Americans alike. The proposed solution to stop the flow of guns, because border security doesn't make sense, was to restrict gun laws in the US to make it more difficult for the average American to enjoy their Second Amendment protections by, for example, closing gun show "loop holes" (we're not exactly clear on what they meant by this – as there are no loop holes in purchasing firearms from registered dealers).
It was reported by alternative media (of course, who else?) that the gun problems in Mexico were actually a result of the billions of dollars cartels make per year, with the help of our largest financial institutions who are more than happy to launder their drug money, and the fact that they will stop at nothing to acquire the weapons. As it turns out, most of the guns being smuggled into Mexico come from countries other than the United States, including Russia and China.
It was clear to those of us who are willing to spend just a couple minutes reading past the headlines that this was nothing more than another attempt at fear-based motivation intent on changing the perceptions of the weak minded. Radio show host Alex Jones has dubbed this just another in a string of government sponsored  false flag terror attacks.
And who could disagree in light of recent news that at the very moment the Obama administration campaigned for more restrictive gun policies here in the U.S., they were engaging in a covert operation to transfer guns into the hands of none other than Mexican drug cartels.
The operations has since blown up in their face, and the fall out is now gaining steam – even in mainstream media.
Keep in mind that Project Gunrunner (Officially Operation Fast & Furious) has, without a doubt, lead to the deaths of at least two US public servants (one ATF agent and a border security agent), plus countless others who ended up on the business end of those weapons.
Senator Darrel Issa (R-CA) has been leading the charge in getting to the bottom of Project Gunrunner, and it's looking more and more like top officials in the administration knew what was going on, and they are now struggling to cover up their direct roles. The top lawman in the US, Attorney General Eric Holder, reportedly had no idea about the operation, denying that he had any knowledge up until a couple weeks ago, though the story has been breaking for some time now with The Ulsterman Report doing some excellent investigative reporting on this since early May.
Issa with Sean Hannity:
If Eric Holder knew any significant time before he said he knew, which was just a couple weeks before he testified, before the Judiciary Committee then he's in very serious trouble.

But I think he's in serious trouble in a different way. He should have known about this, not just this past February, but a year earlier. This was a program that let thousands of weapons go into a foreign country, and in some cases, stay in America, that were being deliberately allowed to be sold to straw purchasers who undoubtedly want to sell to criminals. That's the opposite of what the Bush administration did. The Bush administration even fired U.S. attorneys for not enforcing gun laws. Here we have the opposite happening at all levels.
It's time for Eric Holder to resign. Either he 1) Perjured himself when he claimed no knowledge of the operation or 2) is completely incompetent at his job. Certainly when you have thousands of guns being smuggled by US intelligence and law enforcement agencies into the hands of drug runners the goal is to put people behind bars, which means the Department of Justice would be intimately involved. The reasons why Holder should have, and likely did, know about this operation is that he happens to be in charge of all of these agencies (for the exception of CIA).
The unrestricted arrogance of President Obama, however, cannot be ignored. Yesterday the administration announced they would move forward with gun reform, but not through the traditional legislative process.
The reforms, which are being crafted by the Department of Justice, come after a series of meetings with relevant stakeholders in the Second Amendment debate. But in a nod to the difficulties of getting legislation through a Republican-run House of Representatives, only executive orders or administrative actions — and not an actual bill — are expected to be handed to Congress.

Administration officials were coy on the specifics, from the reforms the Department of Justice would recommend or when it would actually make those recommendations.

"The president directed the Attorney General to form working groups with key stakeholders to identify common sense measures that would improve American safety and security while fully respecting Second Amendment rights," Carney said at Thursday's briefing. "That process is well underway at the Department of Justice with stakeholders on all sides working through these complex issues and we expect to have more specific announcements in the near future."

Source: Huff Post
Here's a common sense idea: Stop sending machine guns to Mexican drug cartels.
The very criminals responsible for smuggling guns into the hands of Mexican Drug Cartels, as well as enabling those drug cartels to launder money through US banks without so much as a slap on the wrist, are now going to reform our gun laws to make us safer by using a common sense approach?
Thank goodness that "key stakeholders" were involved in the discussion with President Obama and the DOJ. We're confident that, in the interest of transparency, fairness and Constitutionality, the interests of American gun clingers are equally represented in the closed-door negotiations.
The following picture sums up our thoughts on anything coming out of the Obama administration, the DOJ, and pretty much all other government entities: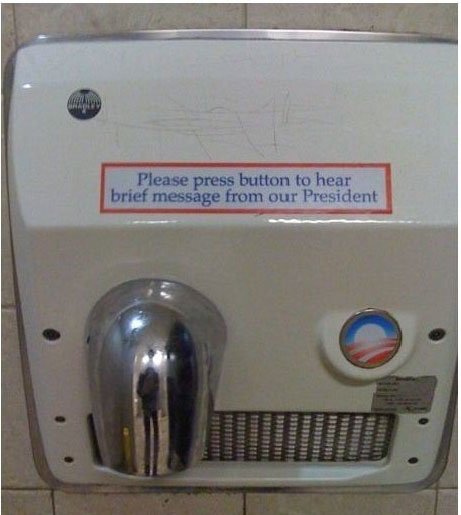 Hat tip Patriot One for the above image