When discussing America's dangerous global expansion we often hear comparisons to the Roman empire. Both eventually got to the point where they spent more than they produced, leading to an eventual decline in their currencies, and in Rome's case a decline and complete transformation of the empire.
The following excerpt, provided by Wikipedia, could just as easily be describing the USA today:
Many historians speculate that the rapid growth of the empire over a relatively short time and the economic inflation that followed could have contributed substantially to the empire's decay. Due to incredible size of the empire, it required a huge budget to maintain many key elements in its survival such as roads (essential for communication, transportation, and the moving of armies) and aqueducts (many of Rome's cities relied on the water that it provided). At the time the empire was fighting enemies on all sides due to its expansion into their territories and was already contributing huge sums of silver and gold to keep up its armies. To try to combat both problems, the empire was forced to raise taxes frequently causing inflation to skyrocket. This in turn caused the major economic stress that others attribute as one of the causes for Rome's decline.
When you compare the loss of purchasing power of America's US Dollar to that of the Roman Denarius, you can get a better idea of the seriousness of the decline in which we currently find ourselves: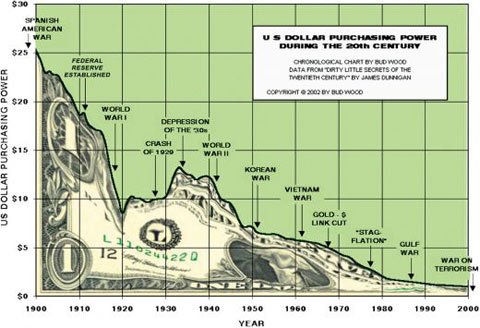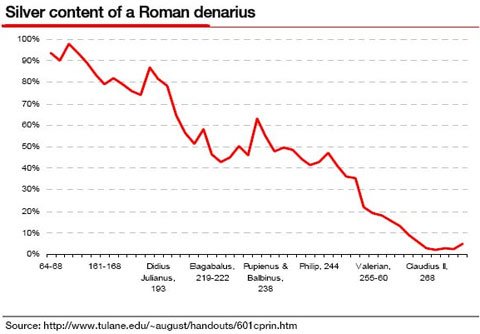 In terms of purchasing power loss, the period from 1913 to the present and the period from around 180AD to 280AD for Rome are shockingly similar. It seems that their republic, which eventually decayed into a socialist democracy, tried to take the same steps to save the system as we have thus far. It didn't work out too well for Rome. No worries, though, this time it's different.
Pretty scary, huh?