As the election of 2016 came to a close and Donald Trump won an electroal landslide against Hillary Clinton, Matt Drudge posted a picture of the losing candidate and asked, "Is this the last photo of Hillary you will ever see on Drudge?"
Millions had hoped the answer was "yes."
As it turns out, our dreams of a Hillary-free America may have just been shattered.
In a recent meeting with friends at her Whitehaven, D.C. home Clinton reportedly raised a glass and said, "I'll be back" in her best Terminator voice.
Edward Klein, the author of Clinton exposé Guilty As Sin, reports that the losing candidate hasn't given up on the White House just yet.
"She's been talking very seriously about the idea of having her own television show," said the source. "As a TV host, she'd discuss the issues of the day from a progressive point of view, have top guests, interview world leaders and progressive thinkers.

"It would have to be a show that she and her people completely controlled," the source continued. "She's convinced she'd get fabulous ratings in a political climate where there's so much anger in Democratic circles over Donald Trump's election.

"She's utterly determined not to fade into the background. She intends to stay in the limelight and keep fighting the good fight. She knows Obama is going to be out there fighting too. But frankly, she doesn't think he's a great leader or a great fighter, which leaves an opening for her to be the acknowledged leader-in-exile of her party.

"She thinks being the host of a popular TV show would energize the Democratic Party base and her tens of millions of fans. It's a way to make a comeback and position herself for another run at the White House starting in a year or so."
Clinton has now lost a chance at the White house twice – once against Barrack Obama in 2008 and most recently against Donald Trump.
She, apparently, has an inability to understand that America simply doesn't want her as the leader of the free world.
While we applaud her persistence (likely driven by the fact that the Clinton Foundation just lost billions in future donations), we suspect that after the initial buzz has worn out, her "completely controlled" TV show will go down in history as yet another failure, much like other liberal-targeted shows that have been hemorrhaging viewers for years.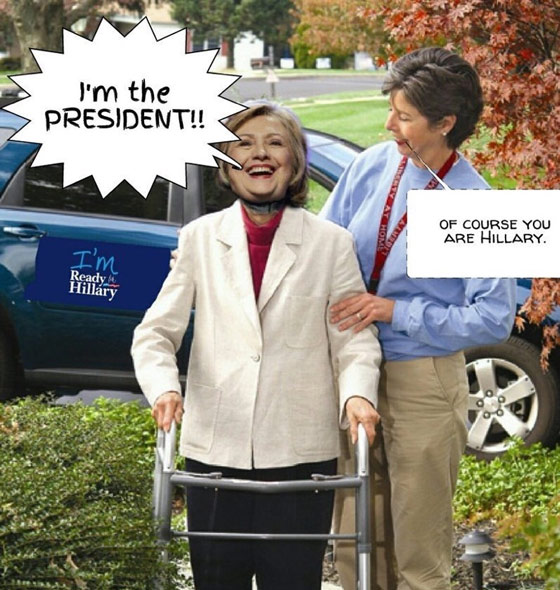 Also See: Man Who Filmed Hillary Collapse Video Hailed As A Hero: "Turned The Election Around"