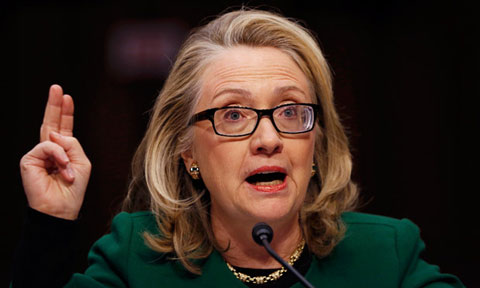 Behold!
In a government and corporate sphere dominated by and filled with psychopaths and sociopaths, arrogant and ruthless ladder climbers and ultra wealthy manipulators, Hillary still stands out head and shoulders above the rest. Not just in 2016, throughout her entire quest for power.
The Washington Free Beacon reports:
Emmanuel Badejo, the bishop of Oyo in southwestern Nigeria, told the Rome correspondent of Aleteia, an online Roman Catholic newspaper, in an interview published Wednesday that Hillary Clinton "thinks she is a god."

"I believe there are three groups of people in this world: those who believe in God, those who do not believe in God, and those who think they are gods," Bishop Badejo said when asked to respond to the former secretary of state's recent claim that "Deep-seated cultural codes, religious beliefs, and structural biases have to be changed" in order to reconcile support for abortion rights with Christianity. "Hillary Clinton I think is one of those who thinks she is a god," Badejo said.

[…]

He continued: "From the way she spoke, people like herself very clearly don't want to hear anything about God. Even if they say they believe in God, they really don't.
Hillary Clinton believes she is a god, or at least that she should be treated like one.
Barack Obama shamelessly let himself be marketed, in the beginning, as a messiah figure, as "The One" and certainly has his fill of hubris and megalomania. Both Bushes and Bill Clinton acted above the law with impunity, narcissistic grandeur and entitlement…
But Hillary actually walks about the earth as if she were a god.
And such a delusion is potentially quite dangerous. Wikipedia notes:
A god complex is an unshakable belief characterized by consistently inflated feelings of personal ability, privilege, or infallibility. A person with a god complex may refuse to admit the possibility of their error or failure, even in the face of irrefutable evidence, complex, or intractable problems or difficult or impossible tasks, or may regard their personal opinions as unquestionably correct. The individual may disregard the rules of society and require special consideration or privileges.
A just, merciful god she does not make. She falls short of omnipotence, and instead seeks power at any cost, by any means.
Her unsettling celebratory laughter at the death of Gaddafi is enough to demonstrate her disconnection the value of individual life.
Her dismissal (What difference does it make?) of the events that cost the lives of Ambassador Chris Stevens and several others in Benghazi reveal her priorities and refusals to accept anything suggesting her mistakes.
Since her early days when she was fired from a Watergate legal team for "unethical and dishonest" behavior and through the long trail of mysterious deaths that follow her family clan's past, and the accompanying denial of any and all wrongdoing, hint at something far darker and disturbing.
And she is looking for a kingdom over which to rule:
"She is seeking election in America so you can expect that, like most politicians, she will say just about anything to pander to the thoughts of whatever audience she is speaking to," he said.

"It is my desire that the American people open their ears and their eyes and know exactly what kind of people are running to be the next President of the United States," he added.
With prevalent concerns about the perceived entitlement of the White House by either a Bush or a Clinton, and the seeming inevitability of a Hillary campaign in 2016 (despite repeated denials that she had not yet decided whether or not to run), there is every reason to be concerned about a candidate who sees themselves not just as ascending to the highest office in the land, but into the heavens.
Even with the over-reaches of government, the country cannot endure an absolute ruler with belief in total power. Even in the cynical race of 2016, nobody is seeking someone with a literal god complex seizing the highest government powers.
Hillary will attempt to keep her follows under her spell, and mask her ambitions to convince enough others to put her back in the White House once again.
Can she be stopped? Clearly she thinks otherwise…