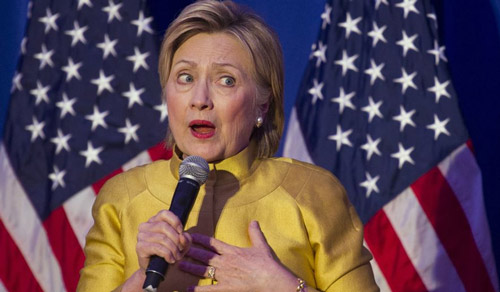 With only a few weeks to decide whether she will seek the Democratic nomination for president, Hillary Clinton says she's facing "enormous pressure" to do so.  Could the third time be the charm?
Hillary Clinton, whose nationwide speaking tour ended in May with $2.00 seat-filler tickets in LA, says she's under "enormous pressure" to run for president again, according to a report by Politico. "I, as I say, never, never, never say never," Clinton said on BBC Radio 5 Live, adding "I will certainly tell you, I'm under enormous pressure from many, many, many people to think about it."
"But as of this moment, sitting here in this studio talking to you, that is absolutely not in my plans," she added.  Does anyone trust Hillary Clinton at this point, though? It's apparent that Trump does not. Back in October, Clinton taunted President Trump in a tweet saying: "Don't tempt me. Do your job." Her jab at the president came after Trump said "I think that Crooked Hillary Clinton should enter the race to try and steal it away from Uber Left Elizabeth Warren."
Don't tempt me. Do your job.

— Hillary Clinton (@HillaryClinton) October 8, 2019
The 72-year-old Clinton says she thinks "all the time" about what kind of president she would have been if she hadn't lost the 2016 election – saying "Of course I think about it. I think about it all the time." Unfortunately, it isn't too late for Clinton to enter the race either.
New Hampshire's deadline is November 15th, while California's is November 26. According to the Washington Examiner, most of the 10 other states expected to hold primaries on Super Tuesday have deadlines in December. But Clinton has said it's too late, regardless.
"I know, it's way past time," Clinton said on Tuesday. "Look, I think all the time about what kind of president I would've been and what I would've done differently and what I think it would've meant to our country and our world. … Whoever wins next time is going to have a big task trying to fix everything that's been broken."