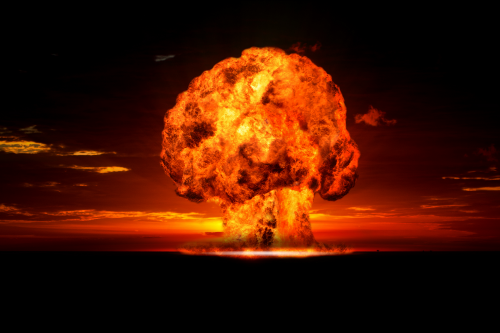 Before Donald trump took office, he promised to rebuild the US military by diverting a lot more funding into the armed forces. And when he made that promise, he wasn't just talking about our conventional forces. He also proposed expanding America's nuclear capability; a position he recently reiterated in an interview with Reuters. He stated that "It would be wonderful, a dream would be that no country would have nukes, but if countries are going to have nukes, we're going to be at the top of the pack."
If Trump is really going to reinvigorate our nuclear program (a decision that many experts fear could spark another arms race), then he needs to be very careful about who he listens to. That's because some of the high ranking officials in our government have some certifiably insane ideas on what a nuclear arsenal should look like. Recently a Pentagon panel known as The Defense Science Board, told the Trump administration that they need to remake our nuclear arsenal into a force that is capable of engaging in a "limited" nuclear war.
According to the report, "The Defense Science Board … urges the president to consider altering existing and planned U.S. armaments to achieve a greater number of lower-yield weapons that could provide a 'tailored nuclear option for limited use.'"

The strategy behind limited nuclear use sounds deceptively simple. You need to escalate a conflict just enough to end it.

As the theory goes, using low-yield nuclear weapons against an adversary's conventional forces will demonstrate that you mean serious business and might be crazy enough to launch an all out nuclear attack. This will cause the enemy to "blink" and ultimately back down, rather than risk global thermonuclear war or continue conventional hostilities.
There's only one problem with the idea of engaging in a limited nuclear war. It simply can't be done. Any limited nuclear war would eventually lead to a full scale nuclear war.
The lynchpin of a limited nuclear war is the tactical nuke. These are nuclear weapons that have a much smaller yield than a strategic nuke. Whereas a strategic nuke might have a yield of half a megaton or more, a tactical nuke is usually somewhere in the ballpark with the atomic weapons that we used on Japan, but usually smaller than that. They're for use on the battlefield, possibly within close proximity to friendly forces. And there's a reason why our government has been slowly phasing them out for decades. Just because they make a smaller crater, doesn't mean they make a smaller impact.
When you use a tactical nuke, you're still using a nuke. It doesn't matter that it's not large enough to destroy an entire city (though some of them can). By using them, you're telling the enemy that you're willing to use nukes. You're saying that you're willing to rain radioactive fallout on their territory. You're willing to engage in total war.
The only appropriate response to that is escalation. The enemy has to show you that they can do the same thing. In war, both parties aren't thinking "gee, how the heck do I get out of this?" They're thinking, "how do I win" and "how do I get back at the other guy" and "how do I teach my enemy a lesson he won't forget." Limited nuclear war doctrine doesn't burn the bridge between conventional war and full on nuclear holocaust. It builds that bridge.
This should be common sense. All you have to do is imagine what would happen if Russia dropped a relatively small, 10 kiloton nuke on an American military base in Europe. Would the US government respond with capitulation? Nobody in their right mind believes that.
And let's pretend for a moment that a limited nuclear war is possible. What would that do? It would normalize nuclear warfare. It would make nukes a viable option in every single war. Every conflict would leave behind a trail of radioactive fallout and mass civilian casualties.
Hopefully brighter minds will prevail, because whoever is proposing this notion of limited nuclear conflict, needs to change out their dress uniform for a freaking straight jacket.