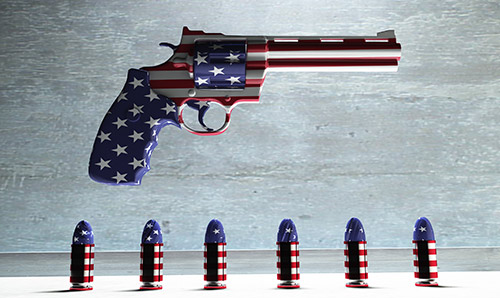 Why are some people like this guy even in the position they are in?
Nicholas Rasmussen of the National Counterterrorism Center told the Washington Post "We find ourselves in a more dangerous situation because our population of violent extremists has no difficulty gaining access to weapons that are quite lethal.  I wish that weren't so."
Rasmussen has served at the NCC for five years and three of those have been as director.
"More weapons, more readily available, increases the lethality of those that would pick them up and use them," added Rasmussen.
Well, there are hundreds of millions of guns owned by over a hundred million citizens.  That isn't the problem.  The problem is the human heart, and you won't correct that with more infringements on the rights of the people.
The WaPo piece obviously referenced the San Bernardino shooting and the most recent mass shooting in Las Vegas back in October as some evidence that Rasmussen is correct in his assessment.
However, in both of those instances, the firearms were all purchased legally through federally licensed firearms dealers.  In other words, the sales were all legal under the pretended legislation of Washington, DC, which should not be writing arms laws in the first place, according to the Second Amendment.
However, what was noticeably missing in the piece was any reference to say… Chicago, Los Angeles, New York or Baltimore.  These cities have some of the strictest gun control "laws" in the country and yet, they are the most prone for violence.
For instance, consider that The Baltimore Sun just reported that Baltimore just set a new homicide record per capita!
(Baltimore Sun) – With two fatal shootings Tuesday night, the recent reclassification of a decades-old shooting as a killing and another homicide Wednesday evening, Baltimore has hit 343 homicides in 2017, and a new record for killings per capita.

The homicide rate for 2017 is now 55.8 killings per 100,000 people. The previous record was 55.35 per 100,000 in 2015. The city suffered 344 homicides that year, but had thousands more residents.

The most homicides to occur in a year was 353 in 1993, but the city had some 100,000 more residents then.
How many guns in those shootings do you think were easy to acquire legally?  Probably not many.
Consider at this time last year, I wrote about the city of Chicago.
During the holidays, Chicago, which is criminally controlled by both street thugs and politicians in suits who infringe upon the God-given right of their citizenry to keep and bear arms, saw the number of shooting victims rise over 4,300 for 2016.

According to the Chicago Tribune at the writing of this article, Chicago has seen 4,328 shooting victims in 2016, compared to 2,989 shooting victims in 2015. That's an increase of over 1,300!

Over the holiday weekend, at least 50 people were shot, and 12 of those were fatal.
As mentioned yesterday by South Carolina attorney Mark Schnee, who filed a lawsuit against the city of Columbia over its ban of trigger cranks and bump stocks, rightly said, "Banning inanimate objects to fix societal problems have never worked and never will work."
And neither will forcing law-abiding citizens to jump through hoops for ammunition or guns solve the problem either.
This doesn't even begin to address the car used by a white supremacist to mow down protesters in Charlottesville, Virginia or the Home Depot rental truck that was used by a Muslim jihadi to murder nearly a dozen people in New York or the 4 people killed in Illinois when they were run down by an Islamist in a truck.
Those weapons right there are far easier to come by than a gun.  There's absolutely no background checks if you have cash in hand to purchase a vehicle, but you aren't hearing people like Mr. Rasmussen mention the easy availability of automobiles, are you?  Well, not yet, you aren't.
This "ease of access to weapons" that Rasmussen and the media quite often put out is actually non-existent.  Even among criminals, there is much that is involved in obtaining weapons, whether it be to murder someone, rob someone or go through a variety of channels to obtain them, it's not that simple.
The very best thing that could occur in the united States would be a simple repeal of each and every restriction and pretended law against weapons.  The American people can be vigilant against terrorism if we were simply allowed to do so.
Perhaps Mr. Rasmussen should study his history and see how our founding fathers dealt with both a tyrannical government and Islamic jihadis.  They didn't believe in restraining the right to even own private warships!
The National Rifle Association's slogan, "The only thing that stops a bad guy with a gun is a good guy with a gun" is spot on.
People need to quit talking about more infringements on the peoples' rights to keep and bear arms and start focusing on bringing swift and just punishments (execution) on those who commit murder and other violent crimes.
If this was done, not only would we see justice, but we would be teaching those growing up in this country that rights are protected for those following the law and if you engage in criminal behavior such as murder, which is what terrorism is all about, then you will lose your life over it.