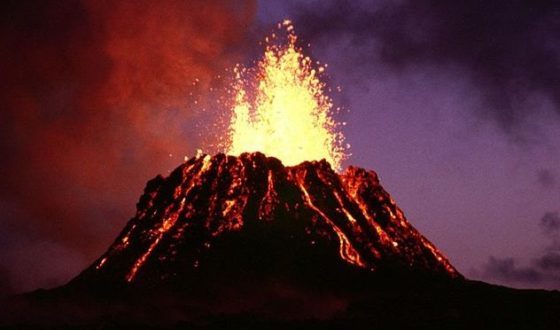 Hawaii is on volcano watch after a series of earthquakes struck the island in less than 72 hours.  Hundreds of quakes were reported before the Kilauea Volcano was put on watch as a volcano that could potentially erupt.
The Kilauea Volcano is located in the Hawaii Volcanoes National Park, which has since closed off nearly 15,700 acres due to "the possibility of a new eruption and unstable geologic activity." But most of the park remains open, according to a statement released by the park.
Officials are now keeping a very close watch on the Kilauea volcano, which is one of the world's most active while residents in the area are being urged to prepare an eruption and review emergency plans in case of evacuation, warned the Hawaii County Civil Defense Agency on Wednesday.
According to CNN, since Monday, hundreds of earthquakes (most of them around a 2.0 magnitude) have been recorded in the area. The series of earthquakes came after a collapse of a crater floor of Puʻu ʻŌʻō, which is a volcanic cone in the eastern rift zone of the Kīlauea Volcano.  Since that fateful collapse on Monday, about 250 earthquakes were reported in the area stretching into Tuesday evening, according to Hawaiian Volcano Observatory Status Report.
The tremors have been going on for days now, causing residents to fear an imminent eruption. Many residents have been reporting nearly constant ground vibrations in some areas. "It has now become unnerving," Carol Shepard, a resident, told CNN affiliate KHON. She said the flurry of earthquakes seemed to happen every minute. "It'd be like the house would shake. It'd be like somebody that weighs 300 pounds came in my living room, and jumped up and down," she said.
Although it's impossible to determine if, let alone when an eruption would occur, scientists felt it was necessary to warn residents of the volcano's recent activity.
The US Geological Survey said no steam or heat were seen escaping through the cracks. They added that the cracks were small, only about several inches across. These cracks are appearing from "deformation of the ground surface due to the underlying intrusion of magma,"  which is the molten rock that is underground, according to the agency.
"An outbreak of lava from the lower East Rift Zone remains a possible outcome of the continued unrest," 
according to USGS 
in a Wednesday night update. "At this time it is not possible to say with certainty if or where such an outbreak may occur, but the area downrift (east) of Pu'u 'Ō'ō remains the most likely location."